— 2019 —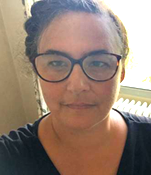 Friday, January 25, 2019

—Melanie Noel (Redmond poet laureate)

Melanie Noel is the author of The Monarchs (Stockport Flats, 2013), a book of poems, and the forthcoming chapbook A Ringing. She is honored to serve as Redmond's poet laureate for 2018–2020. Her website is http://www.lovepossum.com/possum.html.
— 2018 —
December 28, 2018

—Laura Lee Bennett (poetry and fiction)

Laura Lee Bennett received her MFA in creative writing from the University of Oregon in 1982. In the 1990s, she discovered Red Sky Poetry Theatre in Seattle, and was embraced by that community. Today she actively supports written and spoken arts in her Eastside community, including past service as president of the Redmond Association of Spokenword (RASP). Snake Medicine (First Step) is Laura Lee's first chapbook.
Holiday Party Celebration—December 7, 2018
It's time to celebrate another outstanding RASPian year with a party—a night of gaity, games, and glitter.
November 30, 2018

—Kate Walton (storyteller)

Kate Walton is a writer, a Moth Grand Slam storyteller, and the CEO and owner of Steyer Content, a company that partners with enterprise clients to make meaningful connections between people and information. Kate has a BA in English from Harvard University and an MBA from the University of Pennsylvania's Wharton School. Her hobbies include hiking and looking for her keys.
October 26, 2018—Kevin J. O'Conner (poet)
Kevin J. O'Conner, according to his phone's auto-complete function, "is a poet who is not sure what he does, but doesn't have any other way to make sure he has a more appropriate experience with his own story." This is not far from the truth. What Kevin is sure of is that his latest poetry collection is The Lilac Years. You can also read his blog, "Ordinary Average Thoughts," at https://ordinaryaveragethoughts.com/. Kevin lives near Seattle with his cat, Trixie, who likes to sit on top of the refrigerator.
September 28, 2018—Rose Ramm Gamble (poet)
Rose Ramm Gamble is a corn-fed Nebraska revolutionary. A veteran of the Midwest punk scene and wannabe mystic of Catholic heritage, her dogma descends mostly from Beatles lyrics. Curriculum vitae: taught English, leads a theater costume team, and once served Kenny Loggins a Shakespearian minstrel song and an ollalaberry muffin. When Rose stomps out her poetry, it's a shaman journey through social justice covens, parochial school studios, redneck trailer parks, therapy couches, mosh pits, Satsang meditations, and briars of shiny black berries, ripe for the picking.
August 31, 2018—Renee Beauregard Lute (children's literature)
Renee Beauregard Lute is the author of the "Winicker Wallace" children's chapter book series (Calico, 2017). She is a member of SCBWI, and a graduate of the MFA program at Hamline University. Renee lives in Renton, Washington with her husband, three young children, and two cats. For more about Renee or Winicker, visit www.reneebeauregardlute.com.
July 27, 2018—Jack Straw Writers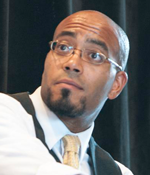 Daemond Arrindell is a poet, playwright, performer, and teaching artist, and the 2018 program curator for Jack Straw Writers. He is a faculty member of Freehold Theatre and the Washington State Teaching Artist Training Lab, adjunct faculty at Seattle University and Tacoma's School of the Arts, and writer-in-residence through Seattle Arts & Lectures' Writers in the Schools program and Skagit River Poetry Foundation. Daemond was a 2013 Jack Straw writer, a VONA Voices Writers' Workshop fellow, and his work has been published by City Arts, Poetry Northwest, Specter, and Crosscut magazines.
Bryan Edenfield was born in Arizona but has lived in Seattle since 2007. As the founder and director of the literary arts organization Babel/Salvage, he hosted and curated the Glossophonic Showcase and the Ogopogo Performance Series. His work has been published in Construction Magazine, Meekling Review, Dryland, Plinth, and Vanilla Sex Magazine, among others. He has a degree in philosophy and history from a mediocre university, so don't worry.
Natasha Kochicheril Moni, a first-generation American of Dutch and Indian heritage, is a licensed naturopathic doctor in Washington State. Her publication credits include sixty journals such as Magma, Entropy, and The Rumpus. She has one full-length poetry collection, The Cardiologist's Daughter (Two Sylvias Press, 2014), and two poetry chapbooks, Lay Down Your Fleece (Shirt Pocket Press, 2017) and Nearly (Dancing Girl Press, 2018).
June 29, 2018—Sheely Mauck (memoirist)
Sheely Mauck was born in Bangalore, India and was adopted in 1986 by two loving parents. Sheely lives in Des Moines, Washington and works for a statewide nonprofit that supports youth programs across Washington. In her free time, Sheely enjoys swimming, spending time with family, and writing. She has begun writing her next book, which explores the intersections of race, ability, and gender through a collection of personal experiences, obstacles, and relationships. Her first book, Grabbing a Spoon, is available on Amazon.
May 25, 2018—Jay Rubin (novelist, translator)
Jay Rubin taught at the University of Washington for eighteen years. He is an emeritus professor of Japanese literature at Harvard and a translator of Haruki Murakami and other modern Japanese writers. Jay is the author of Making Sense of Japanese, Haruki Murakami and the Music of Words, and The Sun Gods, and editor of The Penguin Book of Japanese Short Stories (June, 2018).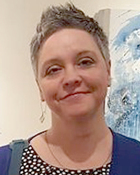 April 27, 2018—Laura Allen (poet, book artist)
Laura Allen (formerly Laura Walton) is a visual artist, writer, and instructor. Laura's visual art has been exhibited in numerous regional and national exhibitions, and her poetry has been featured in many journals, including Glitterpony, S/tick, and Pontoon. She recently published a chapbook of poetry and art, The Quiet Year, through Two Ponies Press. She lives with her husband and other assorted mammals in West Seattle, Washington.

Photo by Jim Parrott
April 10, 2018—Poetry & Prose Cirle
Facilitator: Carolyne Wright
Carolyne's new book is This Dream the World: New & Selected Poems (Lost Horse Press, 2017), whose title poem received a Pushcart Prize and was included in The Best American Poetry 2009. Her co-edited anthology, Raising Lilly Ledbetter: Women Poets Occupy the Workspace (Lost Horse Press, 2015), received ten Pushcart Prize nominations and was a finalist in the Foreword Review's Book of the Year Awards. She has nine earlier poetry volumes, five books of poetry in translation from Spanish and Bengali, and a collection of essays; and has received NEA, 4Culture, and Seattle Arts Commission fellowships, among others. She teaches for Richard Hugo House and for national and international literary conferences and festivals. Wright lived in Chile and traveled in Brazil on a Fulbright Grant during the presidency of Salvador Allende; and has been regaining fluency in Brazilian Portuguese in preparation for a return visit to Bahia on an Instituto Sacatar residency fellowship in 2018.
March 30, 2018—Sue Swanson (historian)

Signup starts at 6:30 PM; reading/open mic starts at 7:00 PM
Sue Cochran Swanson is an educator and a writer who received her BA in history from Mt. Holyoke College. She taught secondary school social studies and served as the official historian of Westchester County, New York. Sue is the author of Between the Lines: Stories of Westchester County, N.Y. During the American Revolution; Westchester County, N.Y., A Pictorial History; Freedom of the Press: From Zenger to Rushdie; and a recently completed memoir, The Time of My Life.
February 23, 2018—Rena Priest (poet, performer)
Rena Priest is a writer and performer. She is a Lummi tribal member and holds an MFA from Sarah Lawrence College. She is active in efforts to strengthen community through participation in local arts and culture, and has taught subjects in comparative cultural studies, the humanities, and Native-American studies at Northwest Indian College, Fairhaven College, and Western Washington University. Her first collection of poetry, Patriarchy Blues, was published by MoonPath Press in June of 2017.
January 26, 2018—Mary Dispenza
Mary Dispenza is a former Catholic nun, educator and National Distinguished Principal. She is an activist for equal rights and for the protection of children, and the Northwest leader of SNAP, Survivors Network of those Abused by Priests. Mary has been featured on KUOW, Public Radio, and KOMO and KING TV in Seattle. Mary's articles and opinion pieces have appeared in CNN Opinion, The Seattle Times and The Los Angeles Times. Mary's memoir, Split: A Child, A Priest, and the Catholic Church, was a two-time Kindle finalists. Mary lives with her spouse in Washington State.
— 2017 —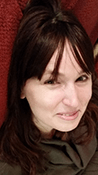 Friday, Dec. 29, 2017—Pamela Denchfield
Pamela Denchfield came of age in a section-8 apartment on the banks of Cedar River. In this communal high-rise, she ate steamed rice and fish paste made by her adopted mom. Pamela now whips up vegan meals up the mountain from Snoqualmie River in Duvall, just east of Redmond. She serves on the board of RASP and does publicity for Duvall Poetry. The Cedar visits her often in her dreams. Her website is www.pameladenchfield.com.
Friday, Dec. 15, 2017—Holiday Party Celebration
We had games poets play, our favorite snacks, and filled VALA Gallery with laughter and cheer having a good time!
Friday, Nov. 17, 2017—Paul Barach, memoir, comedian
Paul Barach, a writer, wanderer, and Seattle native, never learned to sit still. After graduating from Carleton College, he backpacked across Europe, taught English in South Korea, bicycled across the United States, walked the 750-mile Shikoku pilgrimage in Japan (and wrote Fighting Monks and Burning Mountains about it), and most recently completed hiking the 2,650-mile Pacific Crest Trail from Mexico to Canada. His two biggest accomplishments are earning his black belt in Kyokushin karate and falling into the La Brea tarpits only once.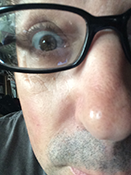 Friday, Oct 27, 2017—Matt Briggs
Matt Briggs is the author of eight works of fiction including The Remains of River Names and Virility Rituals of North American Teenage Boys. His first novel, Shoot the Buffalo, was a finalist for the 2006 Washington State Book Award and won the 2006 American Book Award. The Italian edition of The Remains of River Names was released last year by ad est dell' equator (Napoli), and a new collection of prose is forthcoming from Dr. Cicero Books. His stories have appeared in The Chicago Review, Word Riot, Bull, Opium Magazine, Zyzyyva, and elsewhere. He's online at http://www.suburgian.com.
Friday, Sept 29, 2017—John Shaw
John Shaw has been singing Woody Guthrie and Irving Berlin songs, as well as his own and many others, for more than thirty years, sometimes professionally. He has written and performed songs and music for several plays, weddings, political demonstrations, dance concerts, campfires, and rock shows. His book, This Land That I Love, examines America's best-known national anthems, official and unofficial, through the twin prisms of Guthrie's "This Land Is Your Land" and Berlin's "God Bless America," the former of which was originally drafted as a rebuttal to the latter. John lives in Seattle with his family.
Friday, Aug 25, 2017—Ken Osborne, poet
Ken Osborne is an Englishman. He played in a band as a boy doing many concerts, including a tour of Czechoslovakia. A disruptive child, he walked out of school on his 16th birthday and went to sea. After a trip to New Zealand he drifted from job to job, lived on a monastic island for a while and eventually becoming a senior executive in a large retail company. He also ran the Cambridge Poetry Group for many years. He writes and plays music and produces the occasional oil painting. Many of his poems appear in his book Within Without (2013). Recordings of his poems are available at kenspoetry.com.
Friday, July 28, 2017—David Jacobson, children's books, translation, and Dan D Shafer, book design
David Jacobson is a longtime journalist and writer with a specialty in Japan. He has a BA in East Asian Studies from Yale University and was awarded a Mombusho scholarship to study at Tokyo's Hitotsubashi University. While a journalist in print and broadcast media, his news articles and TV scripts appeared in the Associated Press, The Washington Post, The Seattle Times, The Japan Times, and on NHK and CNN. Since joining Seattle-based Chin Music Press in 2008, David has edited or copyedited titles including Yokohama Yankee, The Sun Gods, and Why Ghosts Appear. Are You an Echo? is his first book.
Dan D Shafer practices graphic design through his studio Dandy Co. (www.dandy-co.com) and teaches in the design department at Cornish College of the Arts. His studio practice focuses on book design and paper engineering, installation and environmental design, event promotion design for cultural and nonprofit institutions, and branding and collateral for small businesses. His self-initiated projects and installations explore the nebulous territory that exists between traditional definitions of "art" and "design," and investigates how people interact with objects in their everyday lives.
Saturday, July 15, 2017—Poets in the Park at Redmond's Anderson Park
Featuring Washington State Poet Laureate Tod Marshall, Redmond Poet Laureate Shin Yu Pai, and many other guests!
Were you at Poets in the Park this year? Take a look at the 2017 photo gallery, where Tod Marshall, Washington State poet laureate was our headline reader. See and enjoy more than 50 other readers, workshops, vendors, art installations, music, drama, mini golf, hula hoops, chalk art, and a book fair, and a cake to celebrate RASP's 20th anniversary. And all under perfect summer weather!
Poets in the Park in 2017 celebrates the 20th anniversary of the Redmond Association of Spokenword. Readings for 2017 featured groups and organizations, workshops, our book fair, vendors, open-mic readings, and more—and it was all free!.
Friday, June 30, 2017—Jane Wong, poet
Jane Wong's poems can be found in anthologies and journals such as Best American Poetry 2015, Best New Poets 2012, Pleiades, Third Coast, and others. A Kundiman fellow, she is the recipient of scholarships and fellowships from the U.S. Fulbright Program, the Fine Arts Work Center, Squaw Valley, and the Bread Loaf Writers' Conference. Along with three chapbooks, she is the author of the book Overpour (Action Books, 2016). This fall, she will be an assistant professor of creative writing at Western Washington University.
Friday, May 26, 2017—Curtis Manley
Curtis Manley is the author of the children's picture books The Crane Girl (an adaptation, with haiku, of a Japanese folktale; 2017), Shawn Loves Sharks (2017) and The Summer Nick Taught His Cats to Read (2016). He has been a geologist, a software performance engineer, and a technical writer. His poetry, flash fiction, nonfiction, and haiku have been published in local and national journals. Curtis grew up in Pennsylvania, moved across the country several times, and now lives on the Eastside with his wife, daughter, and a cat with no interest in learning to read. His website is www.curtismanley.com.
Friday, April 28, 2017—Allen Braden
Allen Braden is the author of A Wreath of Down and Drops of Blood and Elegy in the Passive Voice. He has received fellowships from the NEA and Artist Trust. His poems recently appeared in The World Is Charged: Poetic Engagements with Gerard Manley Hopkins. A native of White Swan, Washington, he is the assistant poetry editor of Terrain.org: A Journal of the Built + Natural Environments.
Saturday, April 15, 2017—Write Out
Individual writing (poetry, fiction, whatever you want). Great fun writing as a group! Optionally share your work aloud.
Friday, March 31, 2017—Von Thompson-Wynn and Wren Thompson-Wynn, poets
Wren Anderson and Von Thompson live the poetic life in the beautiful Sky Valley. They have five children, who keep them exploring and examining the world in unique ways, and live with the Tribulation of Tabbies, their feline muses. Wren is an elementary school teacher and visual artist whose work can be found in private collections and galleries around Texas. Von works in corporate training. They also teach poetry both privately and through public classes and curate the monthly Duvall Poetry reading. They are both graduates of the Solstice MFA at Pine Manor College. You can find their work in three Solstice anthologies: Cantilever, Unmasking, and Calling Back the Sun. Von has also been featured in Uncommon Ground journal and on the Good Men Project.
Friday, February 24, 2017—Danielle K. L. Gregoire, storyteller
Danielle K. L. Gregoire is the producer of the Seattle Moth storySLAM, the founder of the Comedy Womb, and started a storytelling show called "A Necessary Sadness" to help comedians deal with sorrow. She is a storyteller, comedian, and a spoken-word poet and has taught hundreds of workshops on finding your voice for children through the elderly. She has a special interest in stories of the struggles and joys of mental health and queerness, and spends her days parenting two precocious youngsters.
Friday, January 27, 2017—Laurel Leigh, poet (from Bellingham)
Laurel Leigh is currently squatting in Washington's Whatcom County with a dog who eats a lot. To afford all the dog food, she hires out to edit projects for individuals and publishers, including Chronicle Books, BenBella Books, and Connected Dots Media. Her writing has appeared or is forthcoming in The Sun, Bloomsbury Review, and Borderlands. Several of her stories and essays have been published in Bellingham's Clover, A Literary Rag, and her recent essay Nursey has received a Pushcart nomination. In 2013, she received a Mayor's Award for the Arts. She cofounded the San Francisco-based Dogpatch Writers Collective and writes the Dear Writers blog at dearwriters.com/. More at www.LaurelLeighWriter.com.
— 2016 —
Friday, December 9, 2016—Holiday Party
Join us for our VALA & RASP Holiday Party! Bring a dish/snack/drink to share. We'll have an Island Style Slam (get three words and write a poem) and an art activity. Talk to other writers/artists. Enjoy the art. Party with the artists.
Friday, November 18, 2016—Tod Marshall (Washington State Poet Laureate)
Tod Marshall was born in Buffalo, New York, and grew up in Wichita, Kansas. He studied English and philosophy at Siena Heights University, earned an MFA from Eastern Washington University, and graduated with his PhD from the University of Kansas. He directs the writing concentration at Gonzaga University where he is the Robert K. and Ann J. Powers Endowed Professor in the Humanities. He enjoys backpacking and fishing and spends about a month of every year in a tent. From 2016 to 2018, he is serving as the Washington State poet laureate. His work has been published in three collections (Dare Say, The Tangled Line, and Bugle) and many journals.
Friday, October 28, 2016—Peter Ludwin (poetry)
Peter Ludwin has received a literary fellowship from Artist Trust. His new book is Gone to Gold Mountain, from MoonPath Press. In 2016, he was also a poetry finalist for the Tucson Festival of Books Literary Awards, the second place winner of the Kay Snow Writing Awards sponsored by Willamette Writers, and his poem Wolf Concerto won The Comstock Review's Muriel Craft Bailey Memorial Award, judged by Marge Piercy.
Friday, September 30, 2016—Jack Straw Writers (fiction): Ramon Isao, Kirsten Sundberg Lunstrum, and Ruby Hansen Murray
Kirsten Sundberg Lunstrum is the author of two collections of short fiction, This Life She's Chosen and Swimming With Strangers. She has been the recipient of a PEN/O. Henry Prize and fellowships from the Sewanee Writers Conference and the MacDowell Colony. She is a 2016 Jack Straw Writing Program resident, and she teaches at the Attic Learning Community in Woodinville and at Seattle's Richard Hugo House.
Ramon Isao is a recipient of the Tim McGinnis Award for Fiction, as well as a writing fellowship from Jack Straw Cultural Center. His stories have appeared in The Iowa Review, Ninth Letter, Hobart, and The American Reader. His screenplay credits includeDead Body, Zombies of Mass Destruction, and Junk (in which he costars). He has an MFA from Columbia University, and he teaches creative writing at Hugo House in Seattle.
Ruby Hansen Murray's prose and poetry appears in Wild in the Willamette, Oregon Humanities Magazine, Yellow Medicine Review, Tribal College Journal, Salal, The Lake Rises, and About Place. She teaches creative writing in rural and tribal settings. A VONA fellow, she's been awarded residencies at the Sitka Island Institute, Virginia Center for the Creative Arts, Brush Creek, Jentel, Playa, and Hypatia-in-the-Woods. She is completing an MFA in creative writing at the Institute of American Indian Arts.
Friday, August 26, 2016—Laura Lee Bennett (poetry)

Portrait by Savvy Dani,
San Serif, 2015. Collection
of the artist. www.savvydani.com.
Laura Lee Bennett received her MFA in creative writing from the University of Oregon. She is a past president of the Redmond Association of Spokenword (RASP), and actively supports the written and spoken arts in her community. To support her writing habit, she edits software manuals and historical articles about Redmond, Washington. In December 2015, Laura Lee was honored along with four other women artists/activists in the show "[R]evolution" at VALA Eastside in Redmond. There she also collaborated with two other poets, Chi Chi Stewart and Elizabeth Carroll Hayden, on I Am Not Cursed, a retelling of the Demeter-Persephone-Hades myth in three voices. She channels Persephone on a daily basis.
Friday, July 29, 2016—Dan Gemeinhart (young adult fiction)
Dan Gemeinhart is the author of the middle grade novels The Honest Truth (2015, a New York Times Editor's Choice), and Some Kind of Courage (2016, an Amazon Book of the Month), both of which are set in Washington state. His third novel, Scar Island, will be published my Scholastic in January, 2017. He works half-time as a librarian for kids, and is passionate about reading, writing, and sharing kid lit. He lives in Cashmere, Washington with his wife and three children. Read more about Dan and his books at dangemeinhart.com. See video overviews of his The Honest Truth and Some Kind of Courage
Poetry and Prose Circle—Tuesday, July 12, 2016
Facilitator: Katherine Grace Bond
Katherine Grace Bond is the author of the YA books The Summer of No Regrets (Sourcebooks), and Luke's Journal, and of the children's book The Legend of The Valentine (Zondervan), a story of the Civil Rights Movement. Her poetry and fiction appear in scores of journals and anthologies, including Peculiar Pilgrims: Stories from Left Hand of God (Hourglass Books), Arabesques, Beyond Magazine, Margin: An Online Journal of Magical Realism, and Here, There, and Everywhere (Redmond Association of Spokenword). She is the creator of TEENWrite, encouraging teens to approach their writing as professionals, and of EpicWrite, a "live action writing" community where participants come as their characters. She teaches teens and adults at Bellevue College and North Seattle College.
Friday, June 24, 2016—All Open Mic—Bring something "grande" to read
Here's your opportunity to take as long as you want to read — up to 10 minutes. Fiction writers, we're calling you. You need more time than our standard three minutes? This is for you.
And poets, want to explore your inner "T.S. Eliot?" Or, test drive that batch of serial poems you've dreamed of connecting? Want to be a "performance poet" for the evening? Want to gather several of you together and do "call and response." This is your chance to entertain us with your epic works. Ten full minutes each—Woo Hoo!
BTW, 10 minutes is about three and a half pages (see picture). Please practice a few times with a timer.
Friday, May 27, 2016—Martha Brockenbrough

Martha Brockenbrough is the author of The Game of Love and Death, a finalist for the Kirkus Prize and one of Publishers Weekly's Top 10 Books for Teens in 2015. She is the founder of National Grammar Day and author of several other books for young readers and adults. Read more about Martha and her books at http://martha-brockenbrough.squarespace.com/.
Friday, April 29, 2016—Joannie Stangeland
Joannie Stangeland is the author of In Both Hands and Into the Rumored Spring, both published by Ravenna Press, two chapbooks, and the pamphlet A Piece of Work. Joannie's poems have also appeared in Front Porch Journal, Off the Coast, Hubbub, Santa Fe Literary Review, and other publications. Joannie has been a Jack Straw Writers Program Fellow, taught writing classes at Hugo House and LiTFUSE, and served as a poetry editor for two journals. Read her blog at http://joanniestangeland.com/. A Wine and Poetry Pairing: Not only is Joannie Stangeland a poet, she co-owns a winery with her husband, winemaker Tom Stangeland. Cloudlift Cellars http://cloudlift.net/ crafts Bordeaux-style and Rhone-style wines in Seattle's Georgetown winery—and at the April RASP reading, you can sample them.
Friday, March 25, 2016—G. Elizabeth Kretchmer
G. Elizabeth Kretchmer holds an MFA in writing from Pacific University. She is the author of The Damnable Legacy, a novel about a midlife mountaineer wrestling with a decision to place her daughter for adoption thirty years ago, and the just-released short story collection Women on the Brink, in which women aged 13 to 90 struggle against life's unwelcome realities. Her short fiction, essays, and freelance work have appeared in The New York Times, High Desert Journal, Silk Road Review, SLAB, and other publications. When she's not writing, she's facilitating therapeutic and wellness writing workshops in the greater Seattle community or spending time with her husband and Lani (pronounced "Lonnie") the Labradoodle. Her website is www.gekretchmer.com.
Friday, February 26, 2016—Laura LeHew
Laura LeHew's collections include Becoming (Another New Calligraphy, February 2016), Willingly Would I Burn, (MoonPath Press), It's Always Night, It Always Rains (Winterhawk Press), and Beauty (Tiger's Eye Press). Lana Hechtman Ayers says "As dark as the reality of Becoming is, the journey is redeemed by unflinching examination, moments of unwavering generosity, and the faithful testimony of survival." In her other life Laura owns a computer forensics and network security consulting company. Laura received her MFA from the California College of Arts. She edits her small press Uttered Chaos www.utteredchaos.org. Her website is lauralehew.com. Laura always thought she'd be an astronaut.
Friday, January 29, 2016—Christopher J. Jarmick
Christopher J. Jarmick has curated poetry nights and special events in the Pacific Northwest since 2001. His newest collection of poetry, Not Aloud, was published by MoonPath Press in 2015. His previous collection, Ignition: Poem Starters, Septolets, Statements and Double Dog Dares, was published in 2010. Christopher is currently editing the poetry anthology BANG! and accepting submissions through February 15, 2016. http://worldenoughwriters.com/BANG.htm. His "Poetry Is Everything" blog https://chrisjarmick.wordpress.com/tag/poetry-is-everything/ publicizes dozens of readings occurring primarily in Western Washington State. Christopher also cowrote the novel The Glass Cocoon (2001), wrote the award-winning one-act play Clash of Cultures, and has published articles, poetry, and interviews in a variety of print magazines, newspapers, and literary journals.
— 2015 —
Friday, December 11, 2015—6th Annual Holiday Party!
Friday, November 20, 2015—Gloria Burgess

Photo by Kevin Ray Smith
Gloria Burgess fuses memory and ancestral presence into her poetry and performances. She celebrates her deep connection to her African American, Native American, and Celtic heritage. A poetry fellow with Cave Canem, a collective of poets and writers of the African Diaspora, her poetry appears in several anthologies, including The Ringing Ear and Gathering Ground, and in movable and permanent installations, including on a bridge at Brown University. Gloria's poetry has also been featured on NPR's "All Things Considered" and a PBS film on social activism and the arts. She is currently working on a children's picture book about her father's life-changing relationship with William Faulkner. Her website is www.gloriaburgess.com.
Friday, October 30, 2015—Jason Zions
Jason Zions has been writing poetry for more than forty years, although the first ten years or so were pretty terrible. He is a trained storyteller and musician, and is likelier to characterize himself as "bard" than "poet." His work was published in the RASP collection Here, There, and Everywhere, and more can be seen at feedingthegeek.tumblr.com (along with some excellent recipes and meditations on cooking and technology). In his day job as software architect for a large software monopoly, he's lectured to thousands around the world to vaguely thunderous applause.
Friday, September 25, 2015—Jack Straw 2014 Writers: Clare Johnson, Laura Da' and Kevin Craft
Clare Johnson is a writer and visual artist, published in Blithe House Quarterly, Quiet Shorts, Frogmore Papers, 14 Magazine, Lumina, and Cranky. She is a Michael S. Harper Poetry Prize recipient, and her ongoing Post-it Note Project (drawing a memory on a post-it each night) won a Seattle Magazine Best of 2011 for "Best New Take on the Memoir," also garnering a cover feature in Real Change. Recent honors include Artist Trust funding to expand her series of drawings inspired by favorite works of literature, and the publication of Roses, a book pairing her art with poems by Rainer Maria Rilke. She is working on her book-length poetry and fiction project Will I live here when I grow up.
Laura Da' is a poet and public school teacher. A lifetime resident of the Pacific Northwest, Da' studied creative writing at the University of Washington and the Institute of American Indian Arts. Da' is an enrolled member of the Eastern Shawnee Tribe of Oklahoma. Her first chapbook, The Tecumseh Motel, was published in Effigies II. The University of Arizona Press will publish her first full-length manuscript, Tributaries, in 2015. Da' lives near Seattle with her husband and son.
Kevin Craft, curator of the 2015 Jack Straw Writers Program, is also the editor of Poetry Northwest. His books include Solar Prominence (Cloudbank Books, 2005), and five volumes of the anthology Mare Nostrum, an annual collection of Italian translation and Mediterranean-inspired writing. His poems, reviews, and essays have appeared widely in such places as Poetry, AGNI, Verse, Ninth Letter, Alaska Quarterly Review, Southwest Review, The Stranger, and West Branch. A 2008 Jack Straw Writer, he has also been awarded fellowships from the MacDowell Colony, the Bogliasco Foundation (Italy), the Camargo Foundation (France), 4Culture, and Artist Trust.
Friday, August 21, 2015—Michael Schein
Michael Schein is the author of two historical novels, one nonfiction history, and a logorrhea of poems. His latest is John Surratt: The Lincoln Assassin Who Got Away (2015). His novels are Bones Beneath Our Feet (2011), a historical novel of Puget Sound, and Just Deceits (2008), a historical courtroom mystery. Michael teaches poetry and fiction at the Port Townsend Writers Conference, Write on the Sound, in libraries, and elsewhere. He is founder and director of LiTFUSE Poets' Workshop. His poetry is supported by a grant from King County 4Culture. It has been nominated for the Pushcart thrice, and stuck to refrigerators by magnets. Michael and his wife Carol live at Lake Marcel in Carnation.
Friday, July 31, 2015—Colleen Squier
Colleen Squier is a recent transplant to Sequim and The Storypeople of Clallam County. Originally from Seattle, she served on the board of the Seattle Storytellers guild for two years. Her family says that she has been telling stories as long as she has been talking. About six years ago, she decided that she wanted to learn to "really" tell stories and took a class from Cherie Terbon at North Seattle College. Since then she has shared stories at church, parties, and bookstore story times. She appeared at Northwest Folklife for four years, and treasures her genuine recycled trophy for placing third in the Liars Contest. "Stories," she says, "tell us who we were, who we are, and who we will be."
Friday, June 19, 2015—Gene Ambaum
Gene Ambaum occasionally works as a public librarian in the Seattle area under his real name. He's been writing the comic strip Unshelved for the last 13+ years, and has also cowritten a kids graphic novel, Poopy Claw, and a purposely terrible first novel, Fifty Shades of Brains (as BF Dealeo). He loves French comics, television shows from his childhood, librarians' horror stories, piña coladas, and getting caught in the rain. See pictures of his dirty cats and furniture in his neighborhood on Twitter @ambaum, or visit the Unshelved website at www.unshelved.com. Learn more at http://en.wikipedia.org/wiki/Unshelved.
Friday, May 22, 2015—Charles Finn
Charles Finn is the editor of High Desert Journal and author of Wild Delicate Seconds: 29 Wildlife Encounters (OSU Press). His essays and poetry have appeared in a variety of literary journals, anthologies, newspapers, and consumer magazines, including The Sun, Northern Lights, Wild Earth, Silk Road, Open Spaces, Whitefish Review, High Country News, Writers on the Range, and many others. A self-taught woodworker, he is a proponent of "living little" and owner of A Room of One's Own, where he builds furniture and "microhomes," one-room wood cabins constructed entirely out of reclaimed lumber and materials. He lives in Federal Way with his wife Joyce and their two cats Pushkin and Lutsa. There's a nice new review of Charles' book at http://terrain.org/2015/reviews-reads/review-these-given-days/.
Friday, April 24, 2015—Vikram Madan
Vikram Madan, Bellevue poet and artist, was born and raised in India, where he developed an early love for humor, rhyming poetry, and cartooning, but did not figure out how to bring these three passions together until he first encountered the works of Dr. Seuss and Shel Silverstein as an adult. Vikram's debut collection of original, self-illustrated humorous poetry, The Bubble Collector, won a 2013 Moonbeam Award for Children's Poetry and was nominated (by invitation) for the 2014 Washington State Book Awards. Vikram has formally studied art at Seattle's Gage Academy of Art and was recently commissioned to create a large mural for Redmond Town Center. His website is www.VikramMadan.com.
Friday, March 27, 2015—Jim Bertolino and Anita K. Boyle
James Bertolino taught literature and creative writing for 36 years at schools ranging from Washington State University to Cornell University. He spent 14 years at Western Washington University and retired from Willamette University as Writer-in-Residence in 2006. He has received a number of national awards for his poetry, and his 12 volumes include Ravenous Bliss: New and Selected Love Poems, MoonPath Press, 2014. Bertolino has served as an editor for Abraxas, Epoch, Cincinnati Poetry Review, and Stone-Marrow Press. He lives with his wife, artist and poet Anita Boyle, on five acres near Bellingham, Washington. His website is http://jamesbertolino.com.

Anita K. Boyle is a poet, artist, and graphic designer, and the author of three books of poetry: The Drenched, What the Alder Told Me, and Bamboo Equals Loon. She recently received a Poet Publisher Peace Award from the World Peace Poets. Anita lives near an inspiring pond outside Bellingham, Washington with her husband, the poet James Bertolino. Her website is http://egressstudiopress.com.
Friday, February 27, 2015—Kelli Russell Agodon and Martha Silano
Kelli Russell Agodon is a poet, writer, and editor from the Pacific Northwest. Her most recent publications are Hourglass Museum (White Pine Press, 2014) and The Daily Poet: Day-By-Day Prompts for Your Writing Practice, which she coauthored with Martha Silano. Her other books include Letters from the Emily Dickinson Room (Winner of ForeWord Magazine's Book of the Year in Poetry and a Finalist for the Washington State Book Prize), Small Knots, Geography, and Fire On Her Tongue: An Anthology of Contemporary Women's Poetry, which she edited with Annette Spaulding-Convy. Kelli is the cofounder of Two Sylvias Press. Her website is www.agodon.com.
Martha Silano has authored four poetry collections, including The Little Office of the Immaculate Conception, winner of the 2010 Saturnalia Books Poetry Prize, and Reckless Lovely (Saturnalia Books 2014). She also coedited, with Kelli Russell Agodon, The Daily Poet: Day-By-Day Prompts for Your Writing Practice. Her poems have appeared in Paris Review, Poetry, Orion, American Poetry Review, and North American Review, where she received the 2014 James Hearst Poetry Prize, as well as in many anthologies, including American Poetry: The Next Generation and The Best American Poetry 2009. Martha serves as poetry editor of Crab Creek Review and teaches at Bellevue College. She blogs at bluepositive.blogspot.com.
Friday, January 30, 2015—Tom Hitzroth
Tom Hitzroth is a lifelong Eastside resident and recognized local historian. He began researching the history of Redmond in 1998 and has worked at identifying details of Redmond development from its earliest homestead times to 1930. He is currently researching the historic site of Melrose that preceded Redmond, among several other projects. Since 2003, he has led walking tours of Redmond's historic district. He expanded his efforts in 2005 to include historic preservation initiatives and adaptive reuse issues. Tom is currently chair of the King County Landmarks Commission, chair of the City of Redmond Landmark Commission, and vice president of the Association of King County Historic Organizations.
— 2014 —
Friday, December 5, 2014—Holiday Party
Are you ready to par-ty?!! Well, we're awhirl with ideas for celebrating this season and know you'll have a wonderful evening. The names are widely varied and include Gēola, Yule, naël, midwinter, Goode's Day, Hogswatch, and Festivus—but no matter what language and persuasion you choose, it's a time to be merry.
No matter what you believe in, it's the season to take heart in the blessing of Saint Columba (the patron saint of poets), Saint Ceclia (patron of musicians), and Francis de Sales (patron of writers). Come to the party and share your favorite saint.
Break out of the twight of the year. Make merry and celebrate with RASP. Join us for the annual holiday … PAR-TY!
Friday, November 21, 2014—Deb Lund
Deb Lund Deb Lund is the author of Fiction Magic: Card Tricks & Tips for Writers, All Aboard the Dinotrain, and several other books. She's a creativity coach with a master's project on teaching writing and a mission to get everyone claiming their creativity. She has taught writers and writing teachers for more than 25 years and is a frequent presenter in schools, libraries, workshops, retreats, and conferences. Her publishers include Houghton Mifflin Harcourt, HarperCollins, and Simon & Schuster. Learn more about Deb at www.deblund.com.
October 24, 2014—Lopez poets: Ande Finley, Linda Barton and Janet Yang
Ande Finley is thrilled to see her long-held dream of writing manifesting in her remote Lopez Island forest. Her English major in college morphed somehow into a professional life of crunching numbers and she guiltily filed her literary life away till all her kids left home. Mainly now she composes for herself, but her work has appeared in Uncapped, Satsang, and Shark Reef. With the help of her brilliantly creative family, she produced her first chapbook, Simply Love, to commemorate her mother's 75th and her brother's 50th birthdays.
Linda Barton was born in 1950 and grew up in the Chicago suburbs. She has many transcripts stretching coast to coast which patch together her two BAs, one in art history, the other in psychology. She received a Master of Social Work from Berkeley. "Poetry came to me late in life," writes Barton, "which is fortunate because I could grow into it. It represents the perfect blend of brevity, humor, and truth. For me, poetry allows a focus that no other medium can." She lives on Lopez Island with her dog, Lydia. Visit her website at www.lindaloubarton.com.
Janet Yang's professional life began as a printmaker. Her work appears in the collections of the Metropolitan and Brooklyn Museums and other private and institutional collections in the United States, Japan, Korea, and Portugal. Currently her focus is on making art jewelry and some textile work. She also dabbles in various Asian craft techniques, woodcarving, basketry, mixed-media sculpture, and poetry.
September 26, 2014—Emily Dietrich
Emily Dietrich was born in Detroit and raised in Kalamazoo, Michigan. When she was six, she wrote her first poems, one about her brother and one about a fish. Her previous publications include The Case of the Missing Mask and Other Stories (A book of puzzle mystery stories), as well as essays, poems, and articles in Ms. Magazine, Seattle Woman, Seattle's Child, Historic Women of Michigan, and elsewhere. Emily has a BA in English from Mount Holyoke College, an MA in English from the University of Michigan, and a teaching credential from San Jose State University. After teaching high school and college English in Michigan, California, and Washington state, she started working on Holding True, her first novel. Emily lives in Redmond, Washington with her husband, daughter, and son, and a bossy rabbit named Sherlock.
August 22, 2014—Jack Straw 2014 Writers: Susan V. Meyers, Raúl Sánchez and Loreen Lilyn Lee
Susan V. Meyers has lived and taught in Chile, Costa Rica, and Mexico. She earned an MFA from the University of Minnesota and a PhD from the University of Arizona, and she currently teaches creative writing at Seattle University. Her work has recently appeared in Calyx, Per Contra, Dogwood, Cold Mountain Review, and The Minnesota Review. She has received a Squaw Valley Community of Writers scholarship, a Monique Wittig scholarship, a 4Culture grant, and a Fulbright fellowship. Her novel, Failing the Trapeze, won the 2013 Nilsen Award for a First Novel. Her field study on education in rural Mexico, Del Otro Lado: Literacy and Migration Across the U.S.–Mexico Border, is forthcoming from Southern Illinois University Press.
Raúl Sánchez comes from a place south where the sun shines fiercely, where indigenous and European cultures collided. He is a translator, a biotech technician, and an avid collector of poetry books, who occasionally volunteers as a DJ for KBCS 91.3 FM. His inaugural collection, All Our Brown-Skinned Angels, published by MoonPath Press, was nominated for the Washington State Book Award in Poetry for 2013. He has read the book from Vancouver, Washington to Bellingham since May 2012.
Loreen Lilyn Lee grew up in three cultures: Chinese, American, and Hawaiian. Her memoir, The Lava Never Sleeps: A Honolulu Memoir, tells the stories "I'm not supposed to tell." She weaves together family secrets, childhood trauma, cultural confusion, and Hawaiian history, geology, and mythology in a journey to discover her authentic self. A Seattle resident since 1986, she graduated from the University of Washington in 1994 as a working adult and began writing her personal stories. Hedgebrook awarded her a fellowship, and Artist Trust accepted her into their EDGE Professional Development Program for Writers. Her writing community extends beyond the Pacific Northwest. Besides the Port Townsend Writers Conference, she has attended VONA in San Francisco, Oxford Creative Nonfiction Writers Conference in Mississippi, and Las Dos Brujas in New Mexico.
July 25, 2014—Amy Raby
Amy Raby is literally a product of the U.S. space program, since her parents met working for NASA on the Apollo missions. After earning her Bachelor's in computer science from the University of Washington, Amy settled in the Pacific Northwest, where she's always looking for life's next adventure, whether it's capsizing tiny sailboats on Lake Washington or riding dressage horses. Amy was a finalist in the 2011 Romance Writers of America Golden Heart contest with her fantasy romance Assassin's Gambit, which sold to Penguin in 2012. She also won the 2012 Daphne du Maurier award with a different novel, Flood and Fire. Her blog is http://amyraby.wordpress.com/.
July 8, 2014—Poetry & Prose Circle
Facilitator: Jeannine Hall Gailey
Discuss and improve your poetry & prose! Bring your poem or story to our Poetry & Prose Circle. We'll gather to share our writing, then offer ideas for improvement. Take away a new perspective on your creative work.
June 27, 2014—Anne Leigh Parrish
Anne Leigh Parrish's debut novel, What Is Found, What Is Lost, is forthcoming in October 2014 from She Writes Press. Her second story collection, Our Love Could Light The World (She Writes Press, 2013) is a Kirkus Reviews recommended Indie title and a finalist in both the International Book Awards and the Best Book Awards. Her first story collection, All The Roads That Lead From Home (Press 53. 2011) won a silver medal in the 2012 Independent Publisher Book Awards. She is the author of thirty published short stories, both in print and online, and the fiction editor of Eclectica Magazine. She lives in Seattle. Follower her on Twitter at www.Twitter.com/AnneLParrish; on Facebook at www.Facebook.com/AnneLeighParrish, and on her website at www.anneleighparrish.com.
May 30, 2014—Carolyne Wright
Carolyne Wright has published nine books of poetry, four volumes of poetry in translation from Spanish and Bengali, and a collection of essays. Most recent are Mania Klepto: The Book of Eulene (Turning Point, 2011), A Change of Maps (Lost Horse Press, 2006), and Seasons of Mangoes & Brainfire (Carnegie Mellon UP/EWU Books, 2nd ed., 2005), which won the Blue Lynx Prize and the American Book Award. A poem of hers appeared in The Best American Poetry 2009 and the Pushcart Prize XXXIV (2010). Wright is a contributing editor for the Pushcart Prizes and a senior editor for Lost Horse Press. In 2005 she returned to her native Seattle, where she is on the faculty of the Northwest Institute of Literary Arts' Whidbey Writers Workshop MFA program. She received a 2013 4Culture Art Projects Award for Mother-of-Pearl Women, a section of a book in progress of new and selected poems, This Dream the World. This reading is supported, in part, by an award from 4Culture. Photo by E. Rucker
April 25, 2014—Eva Moon
Eva Moon is a writer, composer, and performing artist whose music and theatrical works have appeared on stages from Seattle to London. Her work has appeared in the movie soundtracks of You May Not Kiss the Bride (2011) and Plunder (2009). She is a regular contributor to the Huffington Post. In 2011 she learned she carried the BRCA1 genetic mutation and underwent a hysterectomy and double mastectomy to avoid almost certain odds of cancer. She returned—and turned her creative energies to a solo show to tell this very personal story in The Mutant Diaries: Unzipping My Genes, recently released on DVD. She is in early production stages of a new show, First You Jump. Her website is http://evamoon.net/.
April 8, 2014—Poetry & Prose Circle
Facilitator: Peggy Barnett
Discuss and improve your poetry & prose! Bring your poem or story to our Poetry & Prose Circle. We'll gather to share our writing, then offer ideas for improvement. Take away a new perspective on your creative work.
March 28, 2014—Paul Hunter
Paul Hunter is a poet, musician, instrument-maker, teacher, editor, and publisher. For more than a decade, he has produced letterpress books and broadsides under the imprint of Wood Works Press http://www.woodworkspress.com/, located in Seattle. His poems have appeared in Beloit Poetry Journal, Bloomsbury Review, Iowa Review, North American Review, Poetry, and Poetry Northwest. He has been a guest on PBS as a poet, and is the author of several chapbooks and four books of poetry: Ripening (2006) and Breaking Ground (2005, Washington State Book Award), both published by Silverfish Review Press, Mockingbird (1981, Jawbone Press) and Pullman (1976, University of Washington Press). His latest project is a book of prose poems called Clownery, which is kind of a closet autobiography with a laugh track.
February 21, 2014—Jesse Minkert
Jesse Minkert lives in Seattle. He has written plays for theater and radio, short stories, novels, and poems. Wood Works Press published a letterpress collection of his microstories, Shortness of Breath & Other Symptoms, in 2008. His work appears in Randomly Accessed Poetics, Subprimal Poetry Art, Limestone, Confrontation, Paper Nautilus, Mount Hope, Naugatuck River Review, Floating Bridge Review, Harpur Palate, Raven Chronicles, and other publications. He operates a nonprofit organization called Arts and Visually Impaired Audiences. In the summer Minkert works with visually impaired school kids to produce radio plays and public service announcements dealing with their experience. His website is www.jesse-minkert.com.
January 31, 2014—David Patneaude
David Patneaude began writing seriously (more or less) in the 1980s. His first novel, Someone Was Watching, was published in 1993. His books have been named to dozens of state young readers' lists and honored by the New York Public Library, the Society of School Librarians International, the Winnetka (Illinois) Public Library's "One Book, Two Villages" program, and the Washington State Public Library. His latest novel is Epitaph Road, a nominee for the 2013–2014 Nebraska Golden Sower Book Award. When he's not in a coffee shop writing, at a school or library or conference discussing writing, or on the trail thinking about writing, he's home in Woodinville with his wife Judy, a junior high librarian. His website is www.patneaude.com.
— 2013 —
December 27, 2013 — "Big" Reading Open Mic
The first 10 writers who sign up will have 10 minutes to read.
People have been asking for extra time to read longer fiction work. Well, RASP is listening — here's your opportunity to share your extended pieces. To do this, we won't have a featured reader this one night — instead, you'll all be our featured readers. BTW, if some readers take less time, we may have time to squeeze in more than 10, so be sure to bring something to read — and stay 'til the end.
December 6, 2013 — Holiday Celebration (i.e. a party!)
An island-style evening holiday celebration
with a party snack potluck … and …

an Island-Style Slam poetry contest!
An Island Style Slam presents three words (or six, or nine, depending on the host) for a nominal "price" that goes into the prize kitty. As fast as competitors can, they write a poem that contains all three/six/nine words and conforms to any poetic form. Or participants can join together in teams to share creation of the poems. The Slam has been a regular feature at RASP since our beginnings, and it's always a rewarding experience, in the sense of being fun, or — for winners — a few dollars more than you started with.
November 22, 2013 — Peter Ludwin
Peter Ludwin is the recipient of a literary fellowship from Artist Trust and the W.D. Snodgrass Award for Endeavor and Excellence in Poetry. His most recent book, Rumors of Fallible Gods, was twice a finalist for the Gival Press Poetry Award. He is also a multiple Pushcart Prize nominee. For the past twelve years, he has been a participant in the San Miguel Poetry Week in Mexico, where he has studied under some of America's most notable poets, including Mark Doty, Tony Hoagland, Joseph Stroud, and Robert Wrigley. An avid traveler, he spent a month in China and Tibet in 2011.
October 25, 2013 — Jim Hopkins
Jim Hopkins is a storyteller, questioner, reader, and undertaker. He also likes to call himself a self-made man. Born into a huge family of tall-tale spinners, exaggerators, fibbers, urban-legend spreaders, and white liars, those same folk say he fell in love with words as soon as he could talk. He took to reading at an early age, composing his first "books" soon after, and never leaves a good story unembellished. He escaped his homeland of Texas in 1997 when he came to Washington State to vacation, fell in love, and never left.
September 27, 2013 — Jack Straw Writers
These three featured readers are all 2013 Jack Straw Writers. The 2013 series is curated by Stephanie Kallos.
Daemond Arrindell is a teaching artist, workshop facilitator, community organizer, and wants to be a poet when he grows up. He is producer and curator of the Seattle Poetry Slam, the longest running weekly poetry show in Seattle; eight-time coach of the Seattle National Slam Team; faculty member of the Freehold Theatre; Writer-in-Residence with SAL's Writers in the Schools; and facilitates residencies at Monroe Correctional Complex and Echo Glen Children's Center.
Jeannine Hall Gailey is the poet laureate of Redmond and the author of three books of poetry: Becoming the Villainess (Steel Toe Books, 2006), She Returns to the Floating World (Kitsune Books, 2011), and Unexplained Fevers (New Binary Press, 2013). Her work has been featured on NPR's The Writer's Almanac, Verse Daily, and in The Year's Best Fantasy and Horror. Her poems have appeared in The American Poetry Review, The Iowa Review, Prairie Schooner, and Indiana Review. She volunteers for Crab Creek Review.
Chelsea Werner-Jatzke holds an MFA in creative writing from Goddard College, where she completed a collection of linked short stories, 1742 Second Avenue, pieces of which have been published in Guideword, The Conium Review, and ListenParty.com. Her writing has appeared in Performer Magazine, The Stranger, The Brooklyn Rail, threeimaginarygirls.com, and Release Literary Journal. Chelsea teaches a continuing education creative writing course at Seattle Central Community College and co-organizes Lit.mustest, a biannual reading series at Richard Hugo House.
August 23, 2013 — RASP Anthology Reading and Party
In August 2013, the Redmond Association of Spokenword published Here, There, and Everywhere, a collection of 120 poems by 70 poets who have participated in RASP's monthly reading series as featured or open-mic readers. The book's poems appear in three sections—here, there, and everywhere—that celebrate a full range of poetry from this active region of the Pacific Northwest. Editor Michael Dylan Welch has been curator for RASP readings since 2008.
See more about the Anthology, including how to order more copies (and soon, pictures of the party).
July 26, 2013 — Peggy Barnett
Peggy Barnett was born in 1945 and grew up in Queens, New York. After receiving a BA in fine art from The Cooper Union, she opened a photography studio in New York in 1968 and became a successful corporate still-life and portrait photographer. In 2006, she moved to Woodinville. Her book On Your Left! is a poetic memoir dwelling on the specifics of unending change. You can view her photographs on her website at www.prbarnett.com.
June 28, 2013 — Monique Franklin
Monique Franklin , also known as Verbal Oasis, is a poet and artist from Seattle, Washington. She is a member of African American Writers' Alliance and is published in their latest anthology, Threads. She has published two volumes of poetry, Acoustic Accolades and Erotic Annals of a Poet. She currently cohosts and coproduces the Afrodisiac Erotic Poetry Show, celebrating the diversity and sexuality of people of color (Afrodisiac Seattle on Facebook). The subject matter of her poetry stems from the rich spectrum of her life experiences. Monique's website is verbaloasis.com.
May 31, 2013 — Kathleen Alcalá
Kathleen Alcalá grew up surrounded by stories. She is the author of a short story collection, three novels set in 19th-century Mexico and the Southwest, and a collection of essays based on family history. Her work has received the Western States Book Award, the Governor's Writers Award, and a Pacific Northwest Booksellers Association Book Award. She received an Artist Trust Fellowship in 2008. Kathleen teaches creative writing at the Northwest Institute of Literary Arts, and is a member of the nonprofit group, Seattle7, whose website is http://seattle7writers.org/. Kathleen has recent work in four anthologies, including the Norton Anthology of Latino Literature. More at www.kathleenalcala.com. bio.
April 26, 2013 — Dennis Caswell
Dennis Caswell lives outside Woodinville and works as a software engineer in the aviation industry. He holds degrees in computer science from UC Berkeley and UCLA and spent the eighties and nineties designing and programming computer games and educational software in Northern California, where he grew up, while his artsy friends kept giving him books about poetry. He moved to Washington with his family in 1997. His work has appeared in Floating Bridge Review, Crab Creek Review, Burnside Review, Monarch Review online, and assorted other journals and anthologies. His first full-length collection, Phlogiston (FLOW-ji-stahn), was published in 2012 by Floating Bridge Press. You can visit him online at denniscaswell.com.
March 29, 2013 — Don Kentop
Don Kentop's diverse poetry has appeared in Mute Note Earthward, Tattoos On Cedar, Cascade, the 2004 Jack Straw Anthology, Chrysanthemum, Many Trails To The Summit, and Limbs of the Pine, Peaks of the Ridge, as well as the last three issues of Drash. He was a Seattle Poet Populist finalist in 2005 and in 2008 was selected as a finalist for Garrison Keillor's Bed of Roses Sonnet Contest. In 2004, Rose Alley Press published his chapbook, On Paper Wings. Don has poems pending publication in Changing Times. For the past five years he has curated a popular reading at the Fremont Public Library for the Washington Poets Association, and is currently working on a documentary poem of the 1911 Triangle Factory fire.
February 22, 2013 — Dan Raphael
Dan Raphael's 18th book, The State I'm In, came out in March 2012. The previous year saw the publication of Impulse & Warp: The Selected 20th Century Poems, and the release of his first CD, Children of the Blue Supermarket, from live performances with saxophonist Rich Halley and drummer Carson Halley. Current poems appear in Caliban. Otoliths, Istanbul Review, Blue and Yellow Dog, and Rattapallax. Dan's known for his engaging, high-energy performances, as at Wordstock, the Cascadia Poetry Festival, Powell's Books, Bumbershoot, Eastern Oregon University, and the Portland Jazz Festival. Currently curating the Market Day Reading Series, Dan has edited NRG magazine and 26 Books as well as creating Poetland, where 80 poets read in eight venues over an eight-hour period.
January 25, 2013 — Wendy and Joe Wahman
Wendy Wahman is the author and illustrator of the children's books Don't Lick the Dog and A Cat Like That, from Henry Holt, and the illustrator of Snowboy 1, 2, 3, also from Holt. Don't Lick the Dog was selected as a 2010 Bank Street Best Children's Book of the Year, starred for outstanding merit, and accepted to the Society of Illustrators original art show. For many years, Wendy worked as a staff artist at the Seattle Post-Intelligencer. Her editorial illustrations have appeared in various publications, including Harper's Magazine, The New York Times, and The Los Angeles Times. Joe Wahman has published both fiction and nonfiction. He is currently working in very short forms, including songs and children's books. He wrote Snowboy 1, 2, 3.
January 15, 2013—Poetry & Prose Circle
Facilitator: Elizabth Carroll Hayden
Discuss and improve your poetry & prose! Bring your poem or story to our Poetry & Prose Circle. We'll gather to share our writing, then offer ideas for improvement. Take away a new perspective on your creative work.
— 2012 —
December 28, 2012—Barbara Stoner
Barbara Stoner has been writing for most of her life, if you count letters and journal entries, a short story here, an article there. She earned a magna cum laude degree in the humanities from the University of Wisconsin at Green Bay and has worked at everything from tractor driver to secretary. A few years ago, she decided it was time to stop getting the experience and start doing the art. Her novel The Year of the Crow is based on her earlier years in Wisconsin and her love of wild places, the Grateful Dead, and magic, as well as both hopes and fears for the future. She has two children of whom she is wildly proud. Barbara has lived in Seattle for more than 25 years and is currently working on another novel based on other times, other loves. Her website is www.barbarasbookhouse.com/node.
December 7, 2012 — Holiday Party
Be sure to see the photos
It's that wonderful time of year again —
When sugar plum fairies play ice hockey with wee little Jack Frosties.
When snowmen chortle gleefully as ribbons wave of red, gold and green.
When steaming mugs of elf-nog warm our stocking-covered hands.
When Rasputians roundly toast each other with seasonal poetry.
Never mind the weather, hitch old Maude to the sleigh —
If it snows, we'll be warm. If it rains, we'll be dry.
If it's crispy or nippy or noggy, we'll be happy as clams in a rug.
Bring friends and your family; bring people and strangers galore.
The room is quite large, the emcee's in charge. The food will fill out your derriere!
November 30, 2012 —Bill Hayes
Bill Hayes (aka "Billy" or "Wild Bill") struggled as a youth with asthma, synesthesia, ADHD, a broken back, fractured skull, and an attitude that got him tossed from high school. Joining the military, he felt his wife's fury from half a world away when he neglected to inform her about being wounded. Leaving the military, Bill survived a serious helicopter crash in Alaska, and once again felt his wife's righteous anger when a bill for ambulance service was inadvertently mailed to their home near Seattle. Bill's passion in life (besides that for his ever-forgiving wife, half-a-dozen children, and eight talented grand-daughters) is writing. Bill has completed a hundred-thousand-word novel about a young woman's struggle to compete against boys in high school sports, a collection of outrageous verse about food and dieting, called Bite Me, writes wild limericks, and was a short story finalist in the annual Pacific Northwest Writers Association contest.
October 26, 2012 — Bill Yake
Bill Yake is a poet and retired environmental scientist. For years he directed investigations into the toxic contamination of water, fish, and sediment for the Washington State Department of Ecology. He has two collections of poetry: This Old Riddle: Cormorants and Rain (2003) and Unfurl, Kite, and Veer (2010), both from Radiolarian Press in Astoria, Oregon, plus several chapbooks, most recently The Islands at the Edge of the World (2012, Scatter Creek Press). His poems have appeared in magazines and anthologies serving the environmental and literary communities, including Wilderness Magazine, Anthropology and Humanism, Open Spaces Quarterly, Fine Madness, Rattle, and ISLE-Interdisciplinary Studies in Literature and Environment. He has served on the board of the Olympia Poetry Network for more than fifteen years and lives with his wife, Jeannette, on the verge of a ravine carved by a small chum creek feeding the southern Salish Sea.
September 28, 2012 — Michael Dylan Welch
Michael Dylan Welch has published thousands of his poems, reviews, and essays in hundreds of journals and anthologies in at least fifteen languages. He has won and judged numerous contests, and has published dozens of books, including four translations from Japanese. Michael is currently vice president of the Haiku Society of America, a board member of the Washington Poets Association, curator for the SoulFood Poetry Night, and founder/perpetrator of National Haiku Writing Month, which reached more than a quarter million people in its second year (2012). He was founder and first president of the Tanka Society of America, cofounded the Haiku North America conference and the American Haiku Archives, is a former Jack Straw writer, and also translated a poem that appeared on the back of 150,000,000 U.S. postage stamps in March of 2012. Michael lives in Sammamish, Washington. His website, devoted chiefly to poetry, especially haiku, is www.graceguts.com.
August 24, 2012 —Jack Straw writers — Gabriela Denise Frank, Stacey Bennetts and Nicholas Wong
Stacey Bennetts is a mother, a writer, and a criminal defense attorney, in Seattle, Washington. She married her Hastings College of the Law classmate—and landlord during her house arrest stint—Dennis Carroll. Stacey is editing her 330-page unpublished memoir, Trial By Error: Confessions of an Eight-Year-Old Drug Smuggler, while a student of the 2012 EDGE Professional Development Program for Writers and the Jack Straw Program.
Gabriela Denise Frank, a Detroit native and Seattle resident, is the author of CivitaVeritas: An Italian Fellowship Journey, published in 2011. The book is based on her experience in the unique Italian hill town of Civita di Bagnoregio, Italy, where she lived as a fellow of the Northwest Institute for Architecture and Urban Studies in Italy. Gabriela holds a BA in English from the University of Arizona and an Associate of Applied Arts with honors in graphic design from the Art Institute of Seattle. In 2010, she launched a blog, www.hiddencitydiaries.com, which she continues to write today.
Nick Wong is a writer and photographer who explores culture through the art of boxing. A Mary Gates Scholar, a Bonderman Fellow, and a VONA alum, he served as the assistant editor at the International Examiner from 2009 to 2010 and now freelances for online boxing websites. He is currently writing his first book about his journey through the boxing gyms of Latin America (www.thewanderingpugilist.com), and working towards his dream of building boxing gyms around the world.
August 4, 2012 — 15th anniversary party!
We extended a warm welcome to folks, family and friends attending RASP's 15th Birthday Celebration. We all brought food to share. There was a Limerick Competition, on-site, with performance submission. And we ate birthday cake with impunity! It was all at Redmond's Anderson Park, where the trees have socks over their bark, from 6 PM 'til dark.
We'll post the photos in a slide show soon.
July 27, 2012 — Mary Eliza Crane
Mary Eliza Crane grew up in New England and began writing poetry at age fourteen. Poetry remains the one constant in life to which Mary always returns. In the Adirondacks she fell madly, passionately, and desirously in love with the natural world. A transplant to the Cascade foothills of the Pacific Northwest, her voice lives in the understory and fog of the Snoqualmie River. With this one true love and a deep understanding of what makes us human, she fuses the personal, political, and natural world. A regular feature at poetry venues in the Puget Sound region, she has two volumes of poetry, What I Can Hold In My Hands and At First Light, published by Gazoobi Tales.
July 17, 2012 — Poetry & Prose Circle
Facilitator: Mary Eliza Crane
Discuss and improve your poetry & prose! Bring your poem or story to our Poetry & Prose Circle. We'll gather to share our writing, then offer ideas for improvement. Take away a new perspective on your creative work.
June 29, 2012 — Kim Kircher
Kim Kircher has logged more than 600 hours of explosives control, earning not only her avalanche blaster's card, but also a heli-blaster endorsement, allowing her to fly over ski slopes in a helicopter and drop bombs from the open cockpit, while uttering the fabulously thrilling words "bombs away." Her articles have appeared in The Ski Journal, Women's Adventure Magazine and Off-Piste Magazine. Her memoir, The Next 15 Minutes: Strength From the Top of the Mountain, portrays her life as a ski patroller and the lessons she learned on the slopes in order to get through her husband's cancer diagnosis. Read more about Kim and her book on her website at kimkircher.com.
May 25, 2012 — Brenda Peterson
Brenda Peterson is the author of seventeen books, which range from her first popular memoir, Build Me an Ark: A Life with Animals, chosen as a "Best Spiritual Book of the Year," to three novels, one of which, Duck and Cover, was selected by The New York Times as a "Notable Book of the Year." Her new memoir, I Want To Be Left Behind: Finding Rapture Here on Earth, was chosen as an Indie Next "Best Top Read" and among the "Top Ten Best Non-Fiction Books of 2010." Critically acclaimed, I Want to Be Left Behind was hailed by Booklist as "unusually affecting and radiant … a witty, enrapturing account of a spiritual journey of great relevance to us all." Brenda's first children's book, Leopard and Silkie: One Boy's Quest to Save Seal Pups, is due out in April 2012. Take a look at www.amazon.com/Leopard-Silkie-Boys-Quest-Save/dp/080509167X. For more audio/video and back-story on Brenda's new memoir, please visit www.IWantToBeLeftBehind.com.
April 27, 2012 — Erin Fristad
Erin Fristad survived fifteen years as a deckhand on commercial fishing and research vessels. She chased herring in Togiak, Alaska; crab off the Columbia River; salmon more places than she can remember; and for five years collected scientific data in Puget Sound. Eventually, the tide brought her to Port Townsend, Washington, where she continues to write, teach, and work as campus director of Goddard College. Erin was a subject in the documentary film, Fisher Poets. Her poems and essays have been published in numerous anthologies and journals including Rosebud, Americas Review, Blue Collar Review, Hanging Loose, Seattle Review, Working the Woods, Word the Sea, New Poets of the American West, and Hooked! True Stories of Obsession, Love and Death from Alaska's Commercial Fishermen and Women.
April 12, 2012 — Poetry & Prose Circle
Facilitator: Laura Lee Bennett
Discuss and improve your poetry & prose! Bring your poem or story to our Poetry & Prose Circle. We'll gather to share our writing, then offer ideas for improvement. Take away a new perspective on your creative work.
March 30, 2012 — Bonny Becker
Bonny Becker is the bestselling author of the Bear and Mouse picture books, including A Visitor for Bear, winner of the E. B. White Read Aloud Award, Amazon's 2008 Picture Book of the Year, and an Oprah Children's Book Club selection. Her latest Mouse and Bear book, The Sniffles for Bear, will be released in the fall of 2011. Her most recent middle-grade novel, The Magical Ms. Plum, is a Junior Literary Guild selection and won the 2010 Washington State Children's Book Award. In all, she's published 12 books for children. Bonny lives in Seattle with her husband and bounces between Hawaii and New York to visit her two daughters. Her website is www.bonnybecker.com.
February 24, 2012 — Tim Elhajj
Tim Elhajj is the author of Dopefiend: A Father's Journey from Addiction to Redemption. His nonfiction essays and articles have appeared in The New York Times, Brevity, Guernica, Sweet, The Yalobusha Review, Together, and Relief. He edits Junk, a journal that features literary memoir about addiction, obsession, and unrequited needs, both real and imagined. His website is http://telhajj.com/.
February 21, 2012—Poetry & Prose Circle
Facilitator: Michael Dylan Welch
Discuss and improve your poetry & prose! Bring your poem or story to our Poetry & Prose Circle. We'll gather to share our writing, then offer ideas for improvement. Take away a new perspective on your creative work.
January 27, 2012 — Elizabeth Austen
Elizabeth Austen is the author of the poetry collectionEvery Dress a Decision (Blue Begonia Press, 2011) and two chapbooks, The Girl Who Goes Alone (Floating Bridge Press, 2010) and Where Currents Meet (one of four winners of the 2010 Toadlily Press chapbook award and part of the quartet Sightline). In 2006 she produced Skin Prayers, an audio CD of her poems. Elizabeth spent her teens and twenties working in the theatre and writing poems. A six-month solo walkabout in the Andes region of South America led her to focus exclusively on poetry. She produces poetry-related programming for KUOW 94.9 and makes her living as a communications specialist at Seattle Children's Hospital, where she also offers retreats and journaling workshops for the staff.
— 2011 —
December 30, 2011 — Vonnie Thompson
Vonnie Thompson is a wife, mother, poet, and actress, and a graduate of the University of Puget Sound's creative writing program. After a long hiatus hiding from her poetry, Vonnie is once again thinking, writing, and living words. She lives in the beautiful Sky Valley with her husband, two boys, and the Triangulation of Tabbies, and is also, at times, an office manager at a sales office and a regular at both Woodinville Unitarian and the Aquarian Tabernacle Church. All these threads come together in her very personal style of poetry in which she weaves her personal experience around the experiences and feelings that tie all our lives together. Vonnie is currently working on her first chapbook of poetry, which she hopes to have completed by the end of 2011.
December 2, 2011—Holiday Party, fun & food
November 18, 2011—Jack Straw artists Susan Rich, Annette Spaulding-Convy & Harold Taw
Susan Rich is the author of three collections of poetry, The Cartographer's Tongue / Poems of the World (2000), Cures Include Travel (2006), and The Alchemist's Kitchen (2010), the latter a finalist for the ForeWord Book of the Year Prize. She has received awards from PEN USA, The Times Literary Supplement, and Peace Corps Writers. Recent poems have appeared in the Harvard Review, Poetry Ireland, and Poetry International. She lives in Seattle and teaches English at Highline Community College. Susan is one of the featured readers in this year's Seattle Arts & Lectures poetry series. Photo credit: Rosanne Olson
Annette Spaulding-Convy's full length collection, In Broken Latin, will be published by the University of Arkansas Press (Spring 2012) as a finalist for the Miller Williams Poetry Prize. Her chapbook, In the Convent We Become Clouds, won the 2006 Floating Bridge Press Chapbook Contest and was nominated for a Pushcart Prize. Her poems have been published in Prairie Schooner, North American Review, Crab Orchard Review, and in the International Feminist Journal of Politics, among others. She is coeditor of the literary journal Crab Creek Review, and is cofounder of Two Sylvias Press, which will publish the first eBook anthology of contemporary women's poetry, Fire on Her Tongue, later in 2011.
Harold Taw's debut novel, Adventures of the Karaoke King (AmazonEncore 2011), is a karaoke grail quest about people who keep falling just short of their dreams. A participant in the 2009 Artist Trust EDGE Program for Writers and the 2011 Jack Straw Writers Program, Harold received an Artist Trust GAP award to research his second novel Saturday's Child, garnered accolades for his screenplay Dog Park, and had his work featured on NPR and in a New York Times bestselling anthology. Harold graduated from Yale Law School and as a Fulbright Scholar studied prostitution and the AIDS epidemic in rural Thailand.
October 28, 2011—Angela Jane Fountas
Angela Jane Fountas was a 2008-2009 writer-in-residence at Richard Hugo House and a 2006 Jack Straw Writer. Her story collection, LG + Tiny, is a finalist for the 2011 Bakeless Prize in Fiction. Her work has appeared in Fairy Tale Review, Quick Fiction, Diagram, Sentence, Redivider, Syntax, and elsewhere. Angela was awarded a 2009 Artist Trust Fellowship and her work has been supported by grants from the Seattle Mayor's Office of Arts & Cultural Affairs and 4Culture. She earned her MFA in creative writing from the University of Alabama.
October 18, 2011—Poetry & Prose Circle
Facilitator: Marge Manwaring
Discuss and improve your poetry & prose! Bring your poem or story to our Poetry & Prose Circle. We'll gather to share our writing, then offer ideas for improvement. Take away a new perspective on your creative work.
September 30, 2011—Renda Belle Dodge
Renda Belle Dodge grew up in the Pacific Northwest as part of a typical, fractured family, and she currently resides in Seattle, Washington. Writing has always been a part of her life, and she began telling and illustrating stories when she was a child. Renda's writing style is bold and strives to capture the ongoing struggle for identity in contemporary America. Renda is author of Inkedand The Indie Writer's Workshop (July 2011). She is the managing editor of Line Zero , a quarterly indie arts and writing journal, and Pink Fish Press. Renda regularly runs workshops on fiction plotting, drafting, and independent publishing. For the past seven years she has been involved in National Novel Writing Month, and for the past four has been a Municipal Liaison in the Seattle area, working with and encouraging writers of all ages and skill sets. Her website is http://rendadodge.com/.
August 26, 2011 — Stephen Roxborough
Stephen Roxborough (aka roxword) was born in New York to a Canadian father and American mother. He's a past board member for the Washington Poets Association, cofounder of Burning Word poetry festival, and head poet for Madrona Center on Guemes Island. An internationally acclaimed, award-winning performance poet, Rox has been nominated twice for the Pushcart Prize (2003, 2006), appeared at the Skagit River Poetry Festival (2004), Brave New Words (Whidbey Island, 2009), and coeditedradiant danse uv being, a poetic portrait of bill bissett (2006). He is the author of six books and one CD. His newest collection,this wonderful perpetual beautiful, was published in the spring of 2011.
July 29, 2011 — Stephen Toulouse
Longtime Microsoft employee Stephen "Stepto" Toulouse is a geek, a gamer, a writer, and the director of policy and enforcement for Xbox LIVE. When he's not busy helping his team protect the Xbox LIVE service from miscreants, Stepto can be found exhorting players to "be excellent to each other,7quot; cohosting the weekly Xbox LIVE-oriented "Major Nelson Radio" podcast, and performing segments from his book A Microsoft Life at various events such as the Penny Arcade Expo, w00tstock, and any place discerning gamers and nerds are known to gather. Sharing wry wry-isms and specifically vague observations about gaming and geek culture are Stepto's specialty, and he often enjoys relaxing at home in the small community of Duvall with his wife Rochelle, a cat, and three Golden Retrievers. Stepto's website is located at http://www.stepto.com and he tweets at @stepto.
July 19, 2011—Poetry & Prose Circle
Facilitator:
Discuss and improve your poetry & prose! Bring your poem or story to our Poetry & Prose Circle. We'll gather to share our writing, then offer ideas for improvement. Take away a new perspective on your creative work.
June 24, 2011 — Mark Waterbury
Dr. Mark Waterbury is a materials scientist and author of The Monster of Perugia: The Framing of Amanda Knox. Having worked as a scientist for the Air Force, an engineer for big corporations, and even sinking to being a businessman of sorts, Waterbury recently decided it was time to wash himself off and return to his writing roots. Using a style that draws as much on analogies from literature, history, and mythology as it does from science, Monster is a work of literary nonfiction that has been called a devastating indictment of the Perugian justice system. Other work by Waterbury includes a semiautobiographical novel, Existence Simplified and the Butterfly Effect, about his years at Wright-Patterson AFB (right up the hill from Hanger 19 of UFO fame) and an upcoming work, Of Solitons and Singing Bowls, about agents of change and icons of stability.
May 27, 2011 — featuring Dave Clapper
Dave Clapper is the founding editor of SmokeLong Quarterly, an online literary magazine devoted to flash fiction (stories of a thousand words or fewer). His own writing has been published in numerous literary magazines, including 3am Magazine, InkPot, NFG, FRiGG Magazine, and Hobart. Locally, Dave can often be seen doing improvisational comedy with the groups "Interrobang?! Improv" (which he cofounded) and "Being Humans," as well as occasional appearances with "Wing-It Productions."
April 29, 2011 — featuring David Lloyd Whited
David Lloyd Whited is a Northwest native, born and raised in Oregon's Umpqua Valley. He graduated from Bowling Green State University in 1976 with an MFA in poetry. His work appears in numerous poetry magazines and periodicals. His poetry books include The Elevens (Black Heron Press), Wet Way Home (26 Books), and The Shadow Dance (Nine Muses Press). Recently he has completed a new manuscript, Olde Man Coyote Goes to Towne. David has spent the bulk of his professional life as a planner for the Puyallup Tribe of Indians. He has coauthored numerous ethnohistory articles and a monograph on the subject of health and mental health among the Puyallup Tribal community. David lives on Vashon Island with his wife, four cats, eleven raccoons, and numerous other critters.
April 26, 2011 — Haiku: It's Bigger Than You Think
Kigo, kireji, shasei? What do these terms have to do with haiku? Come and learn the essential techniques of haiku, and discover how you can improve your longer poetry by better understanding haiku essentials. And no, 5-7-5 isn't one of them. Learns the myths and realities of haiku poetry, and see how you can make your own haiku hit the target. Join master haiku teacher Michael Dylan Welch for a lively, hands-on workshop including discussion, writing, inspiration, and more (with copious handouts). Place: Redmond Regional Library
April 19, 2011—Poetry & Prose Circle
Facilitator:
Discuss and improve your poetry & prose! Bring your poem or story to our Poetry & Prose Circle. We'll gather to share our writing, then offer ideas for improvement. Take away a new perspective on your creative work.
March 25, 2011 — featuring Kelli Russell Agodon
Kelli Russell Agodon is the author of the recently published Letters from the Emily Dickinson Room, winner of the White Pine Press Poetry Prize judged by Pulitzer Prize winner Carl Dennis. Her book is also a finalist for the Foreword Book of the Year Award in Poetry. She is also the author of Small Knots (2004) and the chapbook, Geography (2003). Kelli lives in Washington State with her family where she is an avid mountain biker, a lover of chocolate and words, as well as coeditor of Seattle's 28-year-old print literary journal, Crab Creek Review. She blogs at Book of Kells, where she writes about living and writing creatively.
February 25, 2011 — featuring Janée Baugher
Janée Baugher has performed at Bumbershoot, Get Lit!, and Arts Edge Arts Festival, and is a former Jack Straw writer. She recently completed her second term as a Humanities Washington Inquiring Minds speaker. Since receiving an MFA degree from Eastern Washington University, Baugher has taught at Highline Community College, UW-Experimental College, Richard Hugo House, and elsewhere. A former poetry editor of Willow Springs and Switched-on Gutenberg, Baugher regularly collaborates with visual artists, composers, and choreographers. Her recent collaborations were produced at University of Cincinnati - Conservatory of Music, Interlochen Center for the Arts (Interlochen, Michigan), and Dance Now! Ensemble (Miami Beach, Florida). Her debut collection of poems is Coördinates of Yes (Ahadada Books, 2010). Her website is http://JaneeJBaugher.wordpress.com.
January 28, 2011 — featuring Esther Altshul Helfgott and Ann Teplick
Esther Altshul Helfgott is a nonfiction writer and poet with a Ph.D. in history from the University of Washington. Her work appears in the Journal of Poetry Therapy, Maggid: A Journal of Jewish Literature, Drash, American Imago: Psychoanalysis and the Human Sciences, HistoryLink, and elsewhere. She curates the "It's About Time" writers reading series at the Ballard Library, is the author of The Homeless One: A Poem in Many Voices (Seattle: Kota Press, 2000), and she writes a reader's blog, "Witnessing Alzheimer's: A Caregiver's View," for the Seattle Post-Intelligencer. She's working on a nonfiction book about Seattle child psychoanalyst, Dr. Edith Buxbaum.
Ann Teplick is a poet, playwright, and prose writer, with an MFA in creative writing from Vermont College. Her work has appeared in Drash, Chrysanthemum, The Homelessness Project, 161 One-Minute Monologues from Literature, Honest Potatoes, Poetry Works! The First Verse, Reality Mom, Hunger Mountain online journal, and is forthcoming in Crab Creek Review. Her plays have been showcased in and around Seattle; Ashland, Oregon; and Nova Scotia. In 2010, she received funding from the Seattle Office of Arts and Cultural Affairs and 4Culture for a collection of poems entitled The Beauty of a Beet: Poems from the Bedside. For eighteen years she has been a teaching artist, writing with youth in schools and at Richard Hugo House, Coyote Central, Providence Hospice, and Pongo Teen Publishing, where for many years she led poetry workshops in King County juvenile detention centers, and currently does the same at the Washington State Psychiatric Hospital.
January 18, 2011—Poetry & Prose Circle
Facilitator:
Discuss and improve your poetry & prose! Bring your poem or story to our Poetry & Prose Circle. We'll gather to share our writing, then offer ideas for improvement. Take away a new perspective on your creative work.
— 2010 —
December 3, 2010 — Island-style holiday celebration and Island-Style Slam contest was a tropical island success
RASP is having an island-style holiday celebration and you're our guests
An evening holiday celebration with a party snack potluck … and …

an Island-Style Slam poetry contest!
An Island Style Slam presents three words (or six, or nine, depending on the host) for a nominal "price" that goes into the prize kitty. As fast as competitors can, they write a poem that contains all three/six/nine words and conforms to any poetic form. Or participants can join together in teams to share creation of the poems. The Slam has been a regular feature at RASP since our beginnings, and it's always a rewarding experience, in the sense of being fun, or—for winners—a few dollars more than you started with.
October 29, 2010 — featuring Matt Briggs
Matt Briggs is the author five works of fiction including the novel Shoot the Buffalo, which was awarded an American Book Award in 2006. A new novel, The Strong Man, will be released this fall by The Publication Studio. Recent work has appeared in The Chicago Review, TRNSFR, The Golden Handcuffs Review, and Opium Magazine. He can be found at mattbriggs.wordpress.com.
October 19, 2010—Poetry & Prose Circle
Facilitator:
Discuss and improve your poetry & prose! Bring your poem or story to our Poetry & Prose Circle. We'll gather to share our writing, then offer ideas for improvement. Take away a new perspective on your creative work.
September 24, 2010 — featuring Katherine Grace Bond, Amber Flame and Marjorie Manwaring from the Jack Straw program
Katherine Grace Bond has written or contributed to more than 20 books, including the bestselling Legend of the Valentine (Zonderkidz) and Peculiar Pilgrims: Stories from Left Hand of God, edited by Linda Wendling (Hourglass Books). Katherine has 140 additional publishing credits include short fiction, poetry, essays, and articles (and even a comic strip!). Her work has appeared in Arabesques, Beyond Magazine, and Margin: An Online Journal of Magical Realism. Katherine has focused on teen writers since the early 90s, believing that creative communities save lives. To this end, she teaches teens at Bellevue College in Bellevue, Washington, and at several other schools. She is also the creator of Teen Write, an acting/writing camp modeled on the Hero's Journey, which holds quarterly overnights and a four-day event in August. She is at work on a Young Adult novel. Find Katherine at www.KatherineGraceBond.com.
Amber Flame is an award-winning artist, activist, and educator who performs extensively in Seattle. Whether exploring rhythmic and harmonic structures as a framework for spoken word or blending voice in song, she tests genre and medium boundaries. Amber's newest one-woman play, entitled "Hands Above The Covers: Hairy Palms & Other Nightmares of a Church Kid," is debuting in late June with funding through the City of Seattle's Office of Arts & Cultural Affairs. She is also currently at work recording a new album of original music with her band, Last of the RedHot Mamas, as well as writing her first novel under the auspices of Jack Straw Artist Support and Writers Programs. She is the big brain behind A Flame Production, a visionary, collective project, as well as a member of Sankofa, an African-American women's choir.
Marjorie Manwaring lives in Seattle, where she is a freelance writer and an editor for the online poetry and art journal the DMQ Review (www.dmqreview.com). Her work has been published in a variety of journals, and her chapbook Magic Word was published in 2007. Marjorie is a Pushcart Prize nominee, a 2010 Jack Straw Writer, and she has been awarded writing residencies through the Whiteley Center at Friday Harbor on San Juan Island and Artsmith on Orcas Island. You can read more of her work at www.mmanwaring.com.
Learn more about the Jack Straw program.
August 27, 2010 — featuring Harold Gross
Harold Gross, under his own name and as Gordon Gross (with Eve Gordon), has published fiction in Fantasy and Science Fiction, Analog, Aeon Speculative Fiction, Electric Velocipede, and several anthologies — even a cookbook. Among his awards are the Phobos Short Fiction Award, and an honorable mention from the Year's Best Fantasy and Horror (16th Edition). Writing has been the one, long, umbrella career shading all of his other endeavors, including technical writing, systems analyst, and professional actor. Currently, Harold is working on several new short pieces and a novel or two that are, at present, kicking his butt.
July 30, 2010 — featuring Brenda Cooper
Brenda Cooper has published fiction in Analog, Asimov's, Nature, Daybreak, Strange Horizons, and in multiple other magazines and anthologies. She is the author of the Endeavor award winner for 2008: The Silver Ship and the Sea, and of the sequels, Reading the Wind and Wings of Creation. She coauthored Building Harlequin's Moon with Larry Niven. Her next book, Mayan December, is coming soon from Prime Books. By day, Brenda is the City of Kirkland's CIO, and at night and in early morning hours, she's a futurist and writer. Learn more about Brenda at her blog.
June 25, 2010 — featuring Denise Calvetti Michaels and Louise Spiegler from the Jack Straw program
Denise Calvetti Michaels was awarded the Crosscurrents Prize for Poetry by the Washington Community College Humanities Association for her prose poem "Notes on New Orleans." Her work is in anthologies such as In Praise of Farmland (Whit Press), Mute Note Earthward (Washington Poets Association), Between Sleeps (En Theos Press), and Beyond Forgetting (Kent State University Press). Polenta, a memoir, is included in The Milk of Almonds: Italian American Woman on Food and Culture (Feminist Press, 2002). Denise teaches psychology at Cascadia Community College where she also coordinates community service projects. She earned an MA in human development from Pacific Oaks College and received the Martin Luther King Humanitarian Award, along with her colleagues, for their work to address institutional racism.
Louise Spiegler writes fiction for young adults though she knows the future may bring change (travel brochures? blues epics? get-well cards?). Her first novel, The Amethyst Road, was published by Clarion in 2005. Set in an alternative Pacific Northwest, it was a finalist for the Andre Norton Award (Hugo-Nebula Awards Program). Her next novel, The Jewel and the Key, will be published by Clarion in 2011, should the stars align properly and revisions progress well. It is set both in modern-day Seattle and Seattle of 1917, as America enters World War I and the Pacific Northwest is convulsed by free speech and workers' rights battles. The Jack Straw program is providing support and encouragement for her new novel, The Lares, set in Ancient Rome. She teaches history and English at Cascadia Community College, and lives in Seattle with her husband and two sons.
Learn more about the Jack Straw program.
May 28, 2010 — featuring Gerri Russell
Gerri Russell Gerri Russell has done it all when it comes to writing; she's worked as a broadcast journalist, newspaper reporter, magazine columnist, technical writer and editor, and instructional designer, which all finally led her to follow her heart's desire of being a romance novelist. A two-time recipient of the Romance Writers of America's Golden Heart award, and winner of the American Title II competition sponsored by Dorchester Publishing and Romantic Times BOOKreviews Magazine, she resides in Bellevue, Washington with her husband and three children.
April 30, 2010 — featuring Martha Silano
Martha Silano is the author of two poetry collections, What the Truth Tastes Like and Blue Positive. Her poems have appeared widely in such places as Paris Review, AGNI, TriQuarterly, and American Poetry Review, and in more than a dozen anthologies, including American Poetry: The Next Generation and Starting Today: 100 Poems for Obama's First 100 Days. Martha has been a fellow at the Millay Colony for the Arts, the Virginia Center for the Creative Arts, and the University of Arizona Poetry Center, and she was the 2004 Margery Davis Boyden Writing Resident. Martha teaches at Bellevue College, and has been nominated for the Pushcart Prize seven times. Martha has a website, and a blog.
March 26, 2010 — featuring Jared Leising
Jared Leising is the author of a chapbook, The Widows and Orphans of Winesburg, Ohio, and his poems have appeared in various Washington publications, such as Pontoon, Crab Creek Review, StringTown, as well as on Metro Buses and local radio. He has worked as a writer-in-residence for Ballard and Nathan Hale High Schools, been a nominee for Seattle Poet Populist, and before moving to Seattle, he received his M.F.A. in Creative Writing from the University of Houston. Currently, he teaches English at Cascadia Community College, serves on the board of directors at 826 Seattle, and is the curator for the 2010 Jack Straw Writers Program.
February 26, 2010 — featuring Rebecca Meredith
RASP features the City of Redmond's first poet laureate, Rebecca Meredith.
Rebecca Meredith is a poet, writer, and psychotherapist, as well as a RASP cofounder, who served as its coordinator and president for years. Her work has been published in numerous literary magazines and anthologies, and performed in such venues as the Burning Word Poetry Festival, the Seattle Moon Viewing Festival, Redmond's Arts in the Park, and on KUOW's The Beat. Her chapbook, Intergenerational Delta Blues, was published by Pudding House Press. She is a fellow of the Jack Straw Writers' Program, an alumna of Hedgebrook Women Writers' Colony, and was recently appointed the first Poet Laureate of the City of Redmond.
Read about Rebecca's appointment in the Redmond Reporter.
January 30, 2010 — featuring Cat Rambo
Cat Rambo's work has appeared in such places as Asimov's, Weird Tales, and Strange Horizons. Her collection, Eyes Like Sky and Coal and Moonlight, appeared in 2009, following her collaboration with Jeff VanderMeer, The Surgeon's Tales and Other Stories, in 2007. She is the managing editor of the online publication, Fantasy Magazine. Laird Barron said of her work: "Cat Rambo possesses a rare and enviable eye for the sweet intersection of melancholy and bliss, of darkness and light. Crisp, deft, and remarkably nuanced, these tales are exquisite in their richness and beauty. Rambo has, in one stroke, established herself as a formidable presence among contemporary fantasists."
— 2009 —
November 21, 2009 — featuring Jack McCarthy
Jack McCarthy calls himself a "standup poetry guy." Others have called him "legend." The Boston Phoenix named him "Best Standup Poet." The Boston Globe said, "In the poetry world, he's a rock star." Stephen Dobyns calls him, "one of the wonders of contemporary poetry." He's an engaging minor character in the film Slamnation, was a semifinalist for the Individual Slam Championship in 2000, and won the haiku championship at the Individual World Poetry Slam in 2007. His work has appeared in the anthologies The Spoken Word Revolution, The Spoken Word Revolution Redux, Poetry Slam, and The Complete Idiot's Guide to Slam Poetry (The adjective "Complete" is thought to modify the noun "Guide," not the noun "Idiot's"). Now living in Everett, Washington, he brings books and CDs to his readings on the off chance that someone might want to take some of him home. His website is www.standupoet.net.
October 31, 2009 — featuring Raúl Sanchez
Raúl Sanchez is a working Seattle poet. He has been published in a handful of journals and online. Raúl's most recent publications include appearances in The Sylvan Echo (online, spring 2009) and in Floating Bridge Review, Volume 1, Poetry from the left corner. In November 2008, he conducted the Day of the Dead celebration at the Mighty Tieton Poets Workshop in Tieton, Washington. He has been published in Mexico City by the Universidad Nacional Autonoma de México in Speaking Desde las Heridas: Cibertestimonios Transfronterizos/Transborder Testimonies, an anthology published by CISAN. Keeping ties to his native land, Raúl's poems may be splattered with words in Spanish or Nahuátl. He volunteers as a DJ on Sabor! for KBCS 91.3 FM, a community radio station.
Raúl's reading is participatory and you can "help" by bringing a photo of a loved one who has passed away. It doesn't have to be recent. Bring the photo to be set on the small "Day of the Dead" altar that will be set up at the reading location that will include some of the traditional elements used in the offering. If you are willing to share a memory about your loved one with the audience, you are welcome to do so. Your memory doesn't have to be in the form of a poem, just something simple to bring the name of the person back to life.
Raúl said, "There are three kinds of death. One is when the body's functions cease, two is when we are buried or incinerated, and three is when no one remembers your name. Therefore, the Day of the Dead is a day of remembrance."
September 26, 2009 — featuring Barbara Carole
Barbara Carole is a Fulbright scholar with an M.A. in comparative literature. She lived in Paris as a translator and assistant editor of the Paris Review before returning to the United States to teach French and French literature at the University of California, Los Angeles. She also worked as a writer and researcher for explorer Jacques Cousteau's televised undersea expeditions, and was ghostwriter on two of his books. Her other publications include a short story in The Paris Magazine, literary reviews for The French Review and FM Magazine, dance-concert reviews for the Los Angeles Times; and numerous articles for the Los Angeles Times and other newspapers. Barbara now lives with her husband and pets on a forested mountain in the Pacific Northwest where she continues writing. Barbara Carole's memoir, Twelve Stones: Notes on a Miraculous Journey, was just published by Regal Books, and her Web site is www.barbaracarole.com.
August 29, 2009 — Island Style Slam makes comeback
As an international art form, the Island Style Slam may rank as the world's most quickly written poetry. As entertainment, the Slam has elements of the 100-meter sprint and the tortoise's victory. As a competition … well, let's say everyone has a lot of fun. In an Island Style Slam, competitors are offered three words (or six, or nine, depending on the host). As fast as they can, they write a poem that contains all three/six/nine words and conforms to any poetic form.
As described on Wikipedia, this is a "competition at which poets read or recite original work […] These performances are then judged on a numeric scale by previously selected members of the audience." Former RASP President Allan Rousselle describes a RASP Slam on his blog — House of Cards.
The Slam has been a regular feature at RASP since our beginnings, and it's always a rewarding experience, in the sense of being fun, or—for winners—a few dollars more than you started with. (Since it's based on writing skill and a judged process, the Slam isn't gambling.) Rules are explained at the beginning of the session.
July 25, 2009 — featuring William Scott Galasso
William Scott Galasso is the author of eleven books of poetry, including his latest, Laughing Out Clouds, published in 2007. He's won numerous awards, has published more than 1,100 poems, and his work has appeared in more than 130 journals and magazines in Japan, Canada, New Zealand, Australia, England, Croatia, Romania, and throughout the United States. In March 2006, he participated in the reading of Eliot Weinberger's "What I Saw in Iraq," as the voice of Gen. Colin Powell. In January of 2007, he collaborated with the University of Washington group Earth Now, which sponsored a reading on ecology and the environment. In March of 2008, he was a featured reader for the PoetsWest poetry series on KSER 90.7 FM in Everett, Washington. His next book, Collage (New and Selected Poems), is due out in 2009.
June 27, 2009 — featuring Michael Schein
Michael Schein is recognized as a 20th Avenue Northwest Treasure by a guy who hangs out in Seattle's Salmon Bay Park. He is the author of Just Deceits: A Historical Courtroom Mystery (Bennett & Hastings, 2008), described as "the perfect book for lovers of courtroom thrillers, historical fiction, mysteries, or anyone looking for an exciting page-turner that also stimulates the mind." His Web site is http://www.michaelschein.com/. Michael is director of the LitFuse Poets Workshop, and former executive director of Tieton Arts & Humanities. His poetry has been widely published, twice nominated for the Pushcart Prize, and stuck to refrigerators by magnets.
May 30, 2009 — featuring Katherine Grace Bond
Katherine Grace Bond is the author of the bestselling Legend of the Valentine (Zonderkidz) and of three collections of poetry, The Sudden Drown of Knowing, Yielding to Calliope, and Considering Flight (Brass Weight Press). She has contributed to more than twenty additional books, including Gayle Brandeis' Fruitflesh: Seeds of Inspiration for Women Who Write (HarperSanFrancisco) and Peculiar Pilgrims: Stories from the Left Hand of God (Hourglass Books). A certified K-12 teacher, Katherine offers writing classes for youth and adults. She is the creator of Teen Write, an acting/writing camp modeled on the Hero's Journey. She is currently at work on a Young Adult novel. Find Katherine at www.KatherineGraceBond.com.
April 25, 2009 — featuring Kunle Oguneye
Kunle Oguneye was born and raised in Nigeria. He has lived in the United States for the last thirteen years, spending the last four of those years in the Puget Sound Area. He gave up a career in technology in order to pursue his love for children's storytelling. Sikulu and Harambe by the Zambezi River is his first book. More information about Kunle and his book is available at http://www.sikulu.com/.
March 28, 2009 — featuring Rebecca Hoogs
Rebecca Hoogs is the author of a chapbook, Grenade (2005), and her poems have appeared Poetry, Agni, Crazyhorse, Zyzzyva, The Journal, Poetry Northwest, The Florida Review, and elsewhere. She is the recipient of fellowships from the MacDowell Colony (2004) and Artist Trust of Washington State (2005). She is the director of education programs and the curator and host for the Poetry Series for Seattle Arts & Lectures.
February 28, 2009 — featuring Anu Garg
Anu Garg is the founder of Wordsmith.org, a community of more than half a million readers in some 200 countries. He has authored three bestseller books on words: A Word A Day: A Romp Through Some of the Most Unusual and Intriguing Words in English (Wiley, 2002), Another Word a Day: An All-New Romp through Some of the Most Unusual and Intriguing Words in English (Wiley, 2005), and The Dord, the Diglot, and an Avocado or Two: The Hidden Lives and Strange Origins of Common and Not-So-Common Words (Penguin, 2007). Garg grew up in rural India. He learned the English language and moved to the United States to study computer science in graduate school. He worked as a software engineer at a number of corporations including AT&T Labs. Eventually, he gave up his career in software for the love of words and founded http://wordsmith.org to spread the magic of words. He has been profiled in The Smithsonian, The New York Times, Reader's Digest, The Wall Street Journal, USA Today, The Guardian, and on NPR and the BBC, among others. For news clippings, see http://wordsmith.org/awad/articles.html.
January 31, 2009 — featuring Richard Gold
Richard Gold founded and runs the Pongo Teen Writing Project, a nonprofit that offers therapeutic creative writing programs to adolescents who are homeless, in jail, in psychiatric care, or in other ways leading difficult lives. Many Pongo authors have suffered early childhood trauma, such as abuse and neglect. And many Pongo authors use poetry to communicate for the first time about their feelings and experiences. To do its work, Pongo sends teams of trained volunteers inside institutions and agencies to run extended writing projects. In its 13-year history, Pongo has worked with 4,000 teens, published 12 anthologies, and given away more than 13,000 books. The Pongo Publishing web site is www.pongopublishing.org. Before founding Pongo, Richard was managing editor of Microsoft Press. A book of Richard's own poetry, The Odd Puppet Odyssey, was published by Black Heron Press in 2003.
— 2008 —
November 29, 2008 — featuring Louise Marley
Louise Marley began her artistic life as a concert and opera singer. When her first novel, the fantasy Sing the Light, was published in 1995, she was in performances with Seattle Opera. Since then she has made the transition from being a fulltime singer to being a fulltime writer. Her novels The Glass Harmonica and The Child Goddess won the Endeavour Award for excellence in science fiction. Her novel The Terrorists of Irustan was shortlisted for the Nebula Award, the Tiptree Award, and the Campbell Award. Her first young adult novel, Singer in the Snow, was on the one hundred best books list for the American Library Association. Louise is also the author of a fantasy trilogy, The Horsemistress Saga, which is written under the pseudonym Toby Bishop. Louise lives in Redmond with her family and her wheaten Scottish terrier, Piper. More information, audio selections of some of her work, and a schedule of appearances is available on her website: www.louisemarley.com .
October 25, 2008 — featuring Martha Brockenbrough
Martha Brockenbrough is the author of Things That Make Us [Sic], a hilarious guide to grammar. She's the founder of SPOGG, the Society for the Promotion of Good Grammar. She writes an educational humor column for the award-winning online encyclopedia Encarta. She's also the Cinemama for MSN Entertainment, where she writes about family movies, pop culture, and various celebrity foibles. Martha is the former editor-in-chief of MSN.com, and author of It Could Happen to You: Diary of a Pregnancy and Beyond (AndrewsMcMeel Universal). Her work has also appeared in Parenting and Writer's Digest.
September 27, 2008 — Mary K. Whittington
When bookworm Mary K. Whittington was 11, her mother handed her a collection of H.P. Lovecraft stories, which she devoured, committing certain terms to memory (i.e., "ichor"). At 14, she saw her first published poem, "Dead Tree," in the Girl Scout's magazine, The American Girl (she was not a member).
She figured she'd someday be a writer, but maybe an entomologist or a marine biologist. However, after attending the University of California, Santa Barbara, she had to admit that science and her right brain didn't mix. She has taught creative writing to children and adults for more than 35 years.
Mary has published children's picture books (Carmina, Come Dance!; Troll Games; Winter's Child; and The Patchwork Lady) and scary stories in anthologies edited by Jane Yolen and Martin Greenberg ("Wolfskin" in Werewolves; "Leaves" in Things That Go Bump in the Night; "Ahvel," in Vampires; and "Somewhere a Puppy Cries" in The Haunted House). She lives in Kirkland with her long-time friend, Wini Jaeger, Pacho the Dog, and Maya the Cat.
September 6, 2008 — David Horowitz
David Horowitz is the founder and manager of Rose Alley Press and the author of numerous poetry collections including Wildfire, Candleflame; Resin from the Rain; and Streetlamp, Treetop, Star. Those who have seen David read will recall the accessibility of his poetry, as well as his humorous and entertaining style.
David earned bachelor's degrees in philosophy and English from the University of Washington and a master's degree in English from Vanderbilt University. Many of his poems are published in fine literary journals, and won the 2005 PoetsWest Achievement Award. In 2007, he edited and published, the Rose Alley Press anthology: Limbs of the Pine, Peaks of the Range. His new poetry collection, Stars Beyond the Battlesmoke, is due out this autumn.
April 19, 2008 — Lana Ayers
Lana Hechtman Ayers, originally from New York, makes the Pacific Northwest her home after a dozen year sojourn in New England. She works as a manuscript consultant, workshop facilitator, poetry editor of Crab Creek Review and publisher of Concrete Wolf Poetry Chapbook Series and Late Blooms Poetry Postcard Series.
Lana is a sushi enthusiast, movie addict and mom to several black & white cats. Her poems can be found in literary journals such as Rhino, Court Green and Cider Press Review, and in her published collections, Dance From Inside Her Bones (Snake Nation Press 2007) and Chicken Farmer I Still Love You (D-N Publishing 2007).
Stop by Lana's website http://LanaAyers.com for more info.
February 16, 2008 — featuring Ron Starr
Ron Starr does technical writing for money and other writing for pleasure. He is an editor at Floating Bridge Press. His work has appeared most precently in Anemone Sidecar and Drunken Boat 8. His chapbook, A Map by a Dim Lamp, was published last year by Ravenna Press (Review).
January 19, 2008 — featuring Monica Schley
Monica Schley's poems appear in Burnside Review, Cranky, Cream City Review, Naked Joy, Raven Chronicles, Wandering Hermit Review, and a forthcoming Seattle Review issue. Schley's work has been acknowledged by support from the Espy Foundation, and she has performed at the 2007 Seattle Poetry Festival.
A classically trained harpist, Monica appeared with Puget Sound Symphony Orchestra and the Degenerate Art Orchestra. She plays in the jazz/funk ensemble Threat of Beauty, the trio Siendo with bassist Evan Florey-Barnes and percussionist Lalo Bello, teamed with entertainer Kanye West and worked with many of Seattle's well-regarded improvisers. She is president of the Seattle Harp Society
— 2007 —
December 15, 2007 — Holiday Carol Parody Contest
It's time to start thinking about the December get-together. On paper, it looks like this:
Holiday Carol Parody Contest
Jingle bells and jingle smells Are you the next Weird Al Yankovitch? Maybe, if your our age, the next Allan Sherman? If you've never heard of him, he wrote the Twelve Days of Christmas— On the Twelfth day of Christmas, I'm going to exchange … (a whole bunch of weird stuff from relatives).
We're guessing that you should write parodies of popular seasonly songs, whether traditional carols, hymns of the season, or modern songs (i.e. Santa Claus is Coming to Town, and so is Rudolf the Red-nosed Reindeer). And then, if you're comfortable, you can read your parody at the December Open Mic (or get one of your friends to read it for you). And if you're really brave, you can SING your parody. if you're timid, just come, listen, and enjoy.
It's likely there will be seasonal (hot but non-alcoholic toddies, and apple cider, etc.), and you can bring your own cookies and such.
We originally discussed pleading extreme seasonal busy-ness, since we don't have a featured reader. But on reflection, we'll still meet and have fun together.
October 20, 2007 — featuring Kevin Mooneyham
Kevin Mooneyham lives in a swamp southwest of Eugene, Oregon. He was a cofounder of the Eugene Poetry Slam and a member of the Experiment,a Eugene/Portland based cooperative of artists whose aim was to create wild multimedia sensations wherever and whenever possible. This urge culminated in the Inside/Out Festivals, the second of which was held over two days at the 800 seat McDonald Theater in downtown Eugene. For the second festival, Mooneyham served as poetry director.
He has performed at bookstores, coffee houses and bars in Eugene, Portland, Seattle, and San Francisco. His poetry has appeared in print and online. In addition to publishing several Eugene area poets, he has published three chapbooks and one c.d. on his American Mongrel Micropress imprint.
His current interest is in exploiting MS Powerpoint to create multimedia presentations of his work that can be used both in live performance and purchased and enjoyed on home computers. He hopes to have his first such project completed by early 2008.
Casey Robbins, a.k.a the Kyd, is the drummer from the Ol Howl and Smash an up and coming Eugene area rock band. He is also the one man sensation behind Mr. K's Orchestra, through which he recorded over 40 albums, which are available for purchase at http://www.mrksorchestra.com His artistic association with Kevin Mooneyham began in the summer of 2005 when he recorded and collaborated with Mooneyham on the Trainyard CD. More about Kevin at WRITEGALLERY
September 22, 2007 — featuring Cora Goss-Grubbs
Cora Goss-Grubbs is cofounder and advisory council member of the Redmond Association of Spokenword. She is a Hedgebrook alumna and 2003 Jack Straw artist-in-residence. Her essay "Becoming Mother" was published in the Winter '05 issue of Calyx. Other publication credits include String Town, hipMama, Synapse, Silver Quill, and a monthly column in Victory Review. Awards include first place in the Eastside Writers Association short fiction contest and a work-in-progress grant from the Society of Children's Book Writers and Illustrators. She is seeking a publisher for her two young adult novels. Cora lives in Woodinville, with her spouse David her sons Henry and Simon.
August 18, 2007 — featuring Dobbie Norris
Dobbie Norris Dobbie Norris is a Former Seattle Poet Laureate. He has read his work in a variety of venues, including Poets West and the Seattle City Council's Words' Worth Poetry program, where he has also served as guest poetry curator. His work has appeared in numerous journals. Mr Norris coordinates and hosts the poetry readings at Barnes and Noble, University Village, providing opportunities for aspiring and established poets, and promoting Art as an essential element of Life.
July 16, 2007 — featuring Rebecca Loudon
Rebecca Loudon lives and writes in Seattle. She is the author of two collections of poetry, Tarantella and Radish King, both from Ravenna Press, and a chapbook, Navigate, Amelia Earhart's Letters Home from No Tell Books. She teaches violin lessons to children.
June 16, 2007 — featuring Clarice Keegan
Clarice Keegan has faith in poetry as a magical interaction between the poet and audience. She is the winner of the first annual Bart Baxter Award for Performance Poetry from the Washington Poets Association and was a board member of Red Sky Poetry Theatre. Clarice was born in Saratoga Springs, NY, but has spent most of her life in Seattle, where she attended the U of W. She has a masters degree in Philosophy, but earns her living as a freelance writer. Although she has written most of her life — everything from novels to environmental impact statements — Clarice only began to write poetry in 1994. Her first chap book, Seat of Desire, presents her vivid images of love, desire, and freedom. Her second book, Why I Was Adopted, explores the tensions of family. Keegan sits on the WPA board.
May 19, 2007 — featuring Jennifer Munro
Jennifer D. Munro grew up in Hawai'i as a fourth generation islander and now makes her home in Ballard. Her credits include Zyzzyva, Massachusetts Review, and inclusion in Seal Press anthologies on body image, women's friendships and motherhood. As Dawn O'Hara, her erotica has appeared in "Best American Erotica," "Best Women's Erotica," "Mammoth Book of Best New Erotica," "Shameless: Women's Intimate Erotica," "Ripe Fruit: Erotica for Well-Seasoned Lovers" and many others. She was a Hedgebrook resident and an Artist Trust GAP grant recipient.
April 21, 2007 — featuring Corrina Wycoff
Corrina Wycoff's fiction and essays have appeared in Other Voices, New Letters, Coal City Review, The Oregon Quarterly, Brainchild, Out of Line, Golden Handcuffs, and the anthologies: Best Essays Northwest and The Clear Cut Future. She holds an MFA in Creative Writing from the University of Oregon, and an MA in English from the University of Illinois, Chicago. She lives with her son in Seattle, Washington, and teaches English and writing at Pierce College.
March 17, 2007 — RASP RETURNS TO REDMOND
The "RASP RETURNS" Celebration

and St. Patrick's Day party
March 17th – 7:00 until Closing
The Stone House Cafe, Redmond
Redmond Association of Spokenword is delighted to announce its return to Redmond, and proud to call the Stone House Café in historic Old Redmond our new home.
Join us for revelry, ribaldry, and a rousin' good time to be had by all — to celebrate the
RETURN OF RASP TO REDMOND!
Join us for an Irish celebration, including the
First Annual RASP TEAM LIMERICK WRITING CONTEST
February 17, 2007 — featuring Carolyne Wright/Eulene and James Parrott/Al Q Kaedah
MOI (aka "Eulene") — Carolyne Wright has published eight books and chapbooks of poetry; a collection of essays; and three volumes of poetry in translation from Spanish and Bengali, which have won awards from the NEA, Seattle Arts Commission, and Witter Bynner Foundation. Her new collection is A Change of Maps (Lost Horse Press, 2006), finalist for the Idaho Prize and the Alice Fay di Castagnola Award of the Poetry Society of America. Her previous book, Seasons of Mangoes and Brainfire, (Eastern Washington U Press/Lynx House Books, 2nd edition 2005), won the Blue Lynx Prize and the American Book Award. Forthcoming are an anthology of translations from Bengali, Majestic Nights: Love Poems by Bengali Women (White Pine, 2007); and Woman, Money, Watch, Gun (another Idaho Prize finalist), a book-length sequence of poems featuring the culturally challenged alter-ego "Eulene." Carolyne Wright teaches for the Whidbey Writers Workshop MFA Program and for Hugo House, and serves as Translation Editor for Artful Dodge, and on the Board of Directors of the Association of Writers and Writing Programs.
JAMES PARROTT (aka "Al Q. Kaedeh") — Born and raised in Iowa City, Iowa, James Parrott was educated at the University of Iowa (East Asian Languages and Literature) and has lived and worked in San Francisco, Baltimore, Minneapolis, Cincinnati, Columbus, and Cleveland, among other far-flung locales. Disguised as a mild-mannered paralegal during the day, at night he transforms to artist, activist for peace and social justice, film buff, and more recently, composer of poetry, some of it featuring his subversive alter-ego, "Al Q. Kaedeh." He and Carolyne Wright met in 2003 in Ohio, got tied up in a metaphorical knot in 2004, and moved to Wright's native Seattle in mid-2005.
January 20, 2007 — featuring Jason Zions
— 2006 —
December 2, 2006 — featuring Vicky Edmonds
A poet and teacher, Vicky Edmonds uses written and spoken word in an ongoing therapeutic and spiritual practice. Host of a series of radio shows on Straight Talk/Recovery Radio, she has presented at the National Association for Poetry Therapy and the International Expressive Arts Therapy Annual Conferences. Ms. Edmonds has worked nationwide as an educator, developing CD-ROM magazines written and produced by youth.
Her published books include the poetry collections, Inside Voices, used to the dark, once drunk / opening, unpredictable as breathing, and two volumes of the ongoing writing curriculum series, Writes of Passage. Vicky has compiled over 100 collections of writings from her workshops taught in schools, treatment centers, youth-at-risk programs and a children's prison near Seattle.
Vicky's website, http://www.ealloftheabove.com/index.html, is a repository of her poetry, as well as details about her classes, her books, and … her.
November 4, 2006 — featuring Priscilla Long
Priscilla Long writes and publishes poetry, essays, fiction, and history. She is author of Where the Sun Never Shines: a History of America's Bloody Coal Industry. Her work appears in The Southern Review, Raven Chronicles, North Dakota Quarterly, The American Scholar, Ontario Review, Seattle Review, Chattahoochee Review, Passages North, Painted Bride Quarterly, Under The Sun, Michigan Quarterly Review, and other journals and periodicals.
In 2006 The American Scholar, was honored for her piece "Genome Tome" with a National Magazine Award for Best Feature Writing. Her awards include the Richard Hugo House Founders' Award, and honors from the Seattle Arts Commission and the Los Angeles Arts Commission.
Ms. Long serves as Senior Editor of www.HistoryLink.org, an evolving, online encyclopedia of Washington state history.
October 7, 2006 — featuring Rebecca Meredith
Rebecca Meredith is a psychoanalytic psychotherapist and writer, with a private practice in Seattle. As an analyst she helps people explore how they are shaped by earliest relationships and events, and understand how these early experiences affect them now. As a writer and poet, she writes about her own love/hate relationship with her Southern heritage, and her own questions about childhood, mortality and what it means to be human.
A long time RASP reader and tireless supporter, Rebecca is a past president of RASP board of directors, and member of the scrappy RASP Super Bowl of Poetry team.
September 2, 2006 — featuring Penny Orloff
August 5, 2006 — featuring Fred Jesset
with special guest Galit Oren
Born in Wenatchee, grew up in Olympia, Everett and Seattle.
Graduated UW '56. Lived in Colorado, California, South Dakota and Montana before returning to Cheney WA in '73. Moved to Sammamish in '89 to start a new congregation of the Episcopal Church there. Married Kris Olson in '60 and we have two sons and two daughters and seven grandchildren. Began taking writing courses just before I retired in '98.
My little paperback, Remembering Grace, was published this year, It's a collection of 13 true stories of God's grace appearing in the lives of ordinary people.
Since 1999 I've been writing a column, Grace Happens for some Episcopal newspapers (circulation around 20,000) and I've had some short stories, both fiction and creative non-fiction published. In 2003 my unpublished novel When Drummer Loved Dancer was a finalist in the PNWA Literary contest. Death on the Rez: A Quartet of Scenes won second place for excellence in creative non-fiction in the Maryland Writers' Contest.
A short story, The Preacher's Gift will be published in the January 2007 issue of Ancient Paths, and three true short stories in an anthology by the South Dakota Humanites Council late this year.
June 3, 2006 — featuring Carol Morrison
Carol J. Morrison—an instant favorite reader last summer—again favors RASP with her winsome brand of prose. Author of Catching On: Love with an Avid Fly Fisher, Morrison is a Mississippi native transplanted to the Northwest. She lives in North Bend, and shares a therapy practice with her husband Ed—the avid fellow referred to above. As a fly-fisher's wife, she knows fishermen. As a therapist, she knows relationships.
"People want to be loved. They want to believe they're lovable.. They want to believe they're important to others. Readers have seen themselves in my journey and have been inspired by my coming to believe all these things."
May 6, 2006 — featuring Steve Potter
Steve Potter lives in Seattle where he spends more time than he ought wandering the streets, mumbling under his breath. His short fiction and poetry are unleashed in the journals Arson, Drunken Boat, Knock, Midnight Mind, 3rd Bed, California Quarterly, Freefall and on-line at Pindeldyboz. He is the publisher & editor of a new magazine, The Wandering Hermit Review. Mr. Potter has an MFA from City University of New York .
Major press:
The Beautiful World in Ruins
Easy Money
Steve also contributed several poems to the RASP website
Untitled
The Butterflies Would Be God
April 1, 2006 — featuring John and Roberta Olson
John Olson is the author of four collections of prose poetry. His essays, poetry, short stories and literary criticism are published in many respected journals. In 2004, he received The Stranger's Genius Award. Open Books called Roberta Olson's collection, All These Fair and Flagrant Things," a delightful collection of distinctive and whimsical poems." Her poetry appears in distinguished periodicals, and she is a frequent featured reader at local and regional arts venues. In her other life, Ms. Olson is a cake designer. No one knows what Mr. Olson does. John and Roberta live in their cat Toby Olson's house, in Seattle.
More about John Olson.
More about Roberta Olson.
March 4, 2006 — Island Style Slam—Twenty-five minutes of inspired panic
Twice a year, RASP features a competitive event we call an "Island Style Slam." Writers compose poems on the spot and perform them for an audience and panel of judges. Winners are judged on performance, adherence to criteria, and originality. First, second and third place winners divide a cash prize pot. Sounds scary, but it is great fun.
January 7, 2006 — featuring Stacey Levine
Stacey Levine is a Seattle-based author. Her books include *My Horse and Other Stories* (winner of 1994 PEN/West Fiction Award) and *Dra--,* a novel, both published by Sun & Moon Press. Her novel *Frances Johnson* was recently published by Clear Cut Press. She has written for the *American Book Review,* Fodor's travel guides, *Nest* magazine, the *Seattle Times,* the Seattle Weekly,* *The Stranger,* and even scarier venues.
Formerly a creative writing instructor, Stacey is now working on a second collection of short fiction.
— 2005 —
December 3, 2005 — featuring The Three Graces: Wini, Beth, & Mary
Basic information regarding "the three graces."
What we call "collaborative poetry" started unintentionally with Mary writing a line on a melamine board and Wini adding another line. We wrote three poems in this way. One afternoon, when Beth was at the house, she joined in the fun. Wini was working in the garden, and when it was her turn, the melamine board appeared in front of her.
We write without discussing what we are trying to do or where we are "going." As a result, some of the pieces we have written "arrive" better than others. Some are created by the process of occasional e-mail mutterings; other times we may be taking turns scribbling on a napkin in a restaurant with a slow kitchen.
A sample of the Three Graces poetic style:
The fool has gone … (see for yourself)
Elizabeth Atwood discovered words as an infant when her mother read the Oxford Book of Poetry aloud. That love affair has continued ever since, which is a VERY long time, O Best Beloved! Her literary inspirations include Dylan Thomas, Homer, Tolkien, Connie Willis, and the Brontes. Her poetry has appeared singly and in chapbook form. Among Elizabeth's other written works are newsletters, essays, articles, song lyrics, and a Mount Everest of unpublished novel manuscripts, not to mention the ever-popular aircraft maintenance manuals. For now, she thinks that is quite enough.
Winifred Jaeger came to her interest in poetry in her mature years, most of her creative outlet having been in music. She attended a number of Centrum writers' conferences and learned poetry from William Stafford, Stephen Dunn, Marvin Bell, and Jane Hirschfield, a.o. At the Victoria (B.C.) School of Writing, she was influenced by Susan Musgrave. More recently, Wini has become involved in writing haiku and senryu (which now tend to have fewer than 17 syllables), and she is a member of the Haiku Society of America.
At 14, Mary K. Whittington saw her first published poem, "Dead Tree," in the Girl Scouts magazine, American Girl. At Hollywood High School, she discovered marine biology, working weekends and summers in a USC lab, recording data and washing mud. Unfortunately, her right brain and science did not mix. Writing did. But it wasn't until 1985, when she attended Jane Yolen's children's book workshop at the Centrum writers' conference, that Mary found she was on the right track. Today she is an author of children's picture books and scary stories. She also teaches writing and music to children and adults.
November 5, 2005 — featuring Kevin Mooneyham and his Multimedia Project
Kevin Mooneyham is a co-founder of the Eugene Poetry Slam. He is a member of the experiment, a collective of like minded artists operating in Eugene and Portland, Oregon, whose aim is to produce multi-media shows and publications that combine as many artistic forms as possible. In 2002 he served as poetry director for Inside/Out, a two day multi-arts festival held at the McDonald Theater in Eugene.
Kevin performed at both the 2001 and 2002 Inside/Out festivals. He also performed at the 2002 Seattle Poetry Festival. His poetry has been published in many print and online journals including Fireweed: Poetry of Western Oregon, Wings Online, The Write Gallery, (this), vox populii, and free zone quarterly. He was a featured performer at the Northwest Spoken Word Lab's 2004 Super Bowl of Poetry.
Once a month Kevin journeys to the Seattle area to perform poetry—formerly at Red Sky Poetry Theater—but now at the much more interesting and welcoming RASP.
Kevin lives southwest of Eugene, Oregon, on 5.2 acres of wetland with his wife and four dogs. He earns a living as a Custodial Supervisor for the City of Eugene.