---
Celebrating RASP's 20th Anniversary
---
Coming This Month
Allen Braden—Friday, April 28, 2017

Signup starts at 6:30 PM; reading/open mic starts at 7:00 PM
Allen Braden is the author of A Wreath of Down and Drops of Blood and Elegy in the Passive Voice. He has received fellowships from the NEA and Artist Trust. His poems recently appeared in The World Is Charged: Poetic Engagements with Gerard Manley Hopkins. A native of White Swan, Washington, he is the assistant poetry editor of Terrain.org: A Journal of the Built + Natural Environments.
MC—Emily Dietrich
Coming In July
Poets in the Park
Saturday, July 15, 2017—11:00 AM to 6:00 PM
at Redmond's Anderson Park
We're already planning a special celebration of poetry in Redmond, especially the contribution RASP has made over the past 20 years. We'll have a stageful of regional poets, including Washington's Poet Laureate Tod Marshall, workshops with Washington's top poets, book store and poetry publishers, art activities for adults and children, and much, much more.
Don't go anywhere else this special weekend. Spend it toasting RASP's history and the inspiring future of poetry in Redmond!
How to find RASP and VALA in Redmond Town Center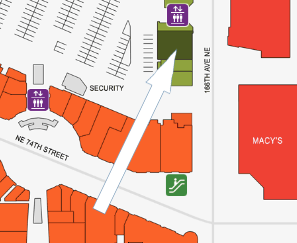 RASP events are held at VALA Eastside at Redmond Town Center, at 7525 166th Ave NE, Suite D140 (directions). That's on the east side of the building across the street from Macy's (in the old Bergman Luggage location; see RTC directory) between T-Mobile and Subway. "The space has nice wood floors, restrooms, [and] running water," said Dawn Laurant, VALA's executive director.
VALA stands for Venues for Artists in the Local Area. It is an artist-friendly place (and we all agree that poetry and writing are major arts) and offers more flexability that our previous location.

We thank the leaders, staff and volunteers at VALA for their generous support of RASP and for the use of their artist-centric location.
Be sure to read the article in the Redmond Reporter about RASP and VALA——"RASP to blend its written, spoken art with the visual arts."
Mark your calendars for these dates, Too!
Curtis Manley, childrens' books—Friday, May 26, 2017

Signup starts at 6:30 PM; reading/open mic starts at 7:00 PM
Curtis Manley is the author of the children's picture books The Crane Girl (an adaptation, with haiku, of a Japanese folktale; 2017), Shawn Loves Sharks (2017) and The Summer Nick Taught His Cats to Read (2016). He has been a geologist, a software performance engineer, and a technical writer. His poetry, flash fiction, nonfiction, and haiku have been published in local and national journals. Curtis grew up in Pennsylvania, moved across the country several times, and now lives on the Eastside with his wife, daughter, and a cat with no interest in learning to read. His website is www.curtismanley.com.
MC—Michael Dylan Welch
Jane Wong, poet—Friday, June 30, 2017

Signup starts at 6:30 PM; reading/open mic starts at 7:00 PM
Jane Wong's poems can be found in anthologies and journals such as Best American Poetry 2015, Best New Poets 2012, Pleiades, Third Coast, and others. A Kundiman fellow, she is the recipient of scholarships and fellowships from the U.S. Fulbright Program, the Fine Arts Work Center, Squaw Valley, and the Bread Loaf Writers' Conference. Along with three chapbooks, she is the author of the book Overpour (Action Books, 2016). This fall, she will be an assistant professor of creative writing at Western Washington University.
MC—Pamela Denchfield
Poets in the Park—Saturday, July 15, 2017

Join us for this awesome event at Redmond's Anderson Park
David Jacobson, children's books, translation, and Dan D Shafer, book design—Friday, July 28, 2017

Signup starts at 6:30 PM; reading/open mic starts at 7:00 PM
David Jacobson is a longtime journalist and writer with a specialty in Japan. He has a BA in East Asian Studies from Yale University and was awarded a Mombusho scholarship to study at Tokyo's Hitotsubashi University. While a journalist in print and broadcast media, his news articles and TV scripts appeared in the Associated Press, The Washington Post, The Seattle Times, The Japan Times, and on NHK and CNN. Since joining Seattle-based Chin Music Press in 2008, David has edited or copyedited titles including Yokohama Yankee, The Sun Gods, and Why Ghosts Appear. Are You an Echo? is his first book.
Dan D Shafer practices graphic design through his studio Dandy Co. (www.dandy-co.com) and teaches in the design department at Cornish College of the Arts. His studio practice focuses on book design and paper engineering, installation and environmental design, event promotion design for cultural and nonprofit institutions, and branding and collateral for small businesses. His self-initiated projects and installations explore the nebulous territory that exists between traditional definitions of "art&q and &qdesign,&q and investigates how people interact with objects in their everyday lives.
MC—Michael Dylan Welch
Ken Osborne, poet—Friday, Aug 25, 2017

Signup starts at 6:30 PM; reading/open mic starts at 7:00 PM
Ken Osborne is an Englishman. He played in a band as a boy doing many concerts, including a tour of Czechoslovakia. A disruptive child, he walked out of school on his 16th birthday and went to sea. After a trip to New Zealand he drifted from job to job, lived on a monastic island for a while and eventually becoming a senior executive in a large retail company. He also ran the Cambridge Poetry Group for many years. He writes and plays music and produces the occasional oil painting. Many of his poems appear in his book Within Without (2013). Recordings of his poems are available at kenspoetry.com.
MC—Michael Heavener
Paul Barach, memoir, comedian—Friday, Sept 29, 2017

Signup starts at 6:30 PM; reading/open mic starts at 7:00 PM
Matt Briggs, fiction—Friday, Oct 27, 2017

Signup starts at 6:30 PM; reading/open mic starts at 7:00 PM
John Shaw—Friday, Nov. 17, 2017

Moved ahead one week due to Thanksgiving holiday
Signup starts at 6:30 PM; reading/open mic starts at 7:00 PM
Holiday Party Celebration—Friday, Dec. 8, 2017
TBA—Friday, Dec. 29, 2017